|
Dry skin and acne: what you need to know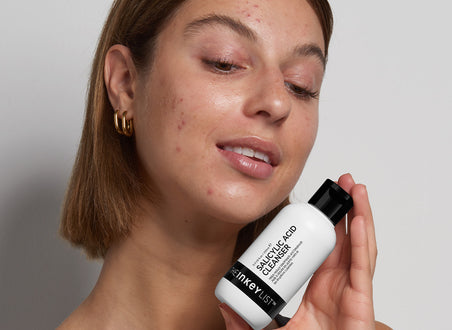 CAN DRY SKIN CAUSE ACNE?
It's fair to say that acne is usually associated with oily skin, or those with normal to combination skin who also experience excess oil. It is less common, but dry skin types can absolutely experience acne, and it can be a hard situation to address – particularly when deciding which skincare to use. This is because dry skin has a habit of over-producing oil to compensate for a lack of lubrication, which in turn can lead to clogged pores and acne.
Often, it can be difficult to understand whether the dryness or the acne came first, many acne treatments can cause dryness and flaking.
In reality, anybody can experience acne. But the combination of dry skin with acne is less talked about and thus, can be confusing. 
Discover whether your skin really is dry, or if you're experiencing dehydration with our Dry Vs Dehydrated Skin 101 guide.
HOW TO TREAT SKIN THAT'S DRY AND ACNE PRONE 
The real conundrum comes when deciding whether to combat dryness (with moisturizing, rich products), or treat acne (with more targeted actives). The moisturizing formulas can clog pores, whereas the active spot treatments dry skin out even more. So how to proceed? 
We recommend opting for a gentle yet effective routine that is regular. Once you have found a regime that works for you, it's crucial to stick to it to give skin some regularity while it is experiencing so much at once.  
The optimal routine will keep skin feeling nourished and hydrated, while also tackling acne. We recommend cleansing twice a day, but resisting the urge to over-cleanse to take on spots, as this can dry out already-fragile skin. 
Inkey's Salicylic Acid Cleanser is perfect for dry skin with acne as it suits all skin types. While the salicylic acid penetrates deep into pores to treat and prevent blemishes, the formula itself is non-drying, meaning it won't strip skin or leave you feeling uncomfortable. 
Next up, we recommend using our hero product: Hyaluronic Acid Serum. This will hydrate skin in need, but without clogging pores or weighing down skin. 
After cleansing and hydrating, it's time to reach for treatments and serums. There are many formulas by Inkey that are suitable for all skin types, but we would most recommend Niacinamide Serum for dry skin, as it helps to address excess oil and redness related to acne, while also soothing skin in need. 
Learn everything about acne here with our handy guide. 
Last but not least, it's time to moisturize. The Inkey List Omega Water Cream is a brilliant moisturizer for dry acne prone skin. It is oil-free, and boasts an ultra-lightweight texture that will never weigh skin down. That said, it's incredibly hydrating and will effectively moisturize dry skin with its Omega Fatty Acid Complex, Glycerin, Betain and Niacinamide. 
Last but not least, never forget to apply your SPF in the morning time for UV protection. 


If you want to find out more about the best skincare for your skin type, contact us at askINKEY.