Explore your skin microbiome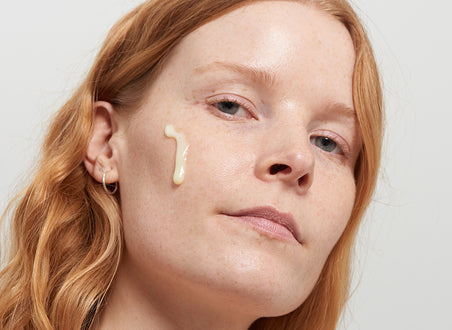 When we think of the microbiome, the word may draw us to the world of digestion and gut health, but what about the microbiome of your skin?
WHAT IS A MICROBIOME?
The term microbiome is defined as 'the microorganisms (such as bacteria, fungi, viruses equating the microbiota) in a particular environment'. This includes in or on the body or specific area of the body such as the skin.  Like the gut, the skin has its own environment of trillions of bacteria whose constitution is unique and individual to each person. Disruption and ongoing dysregulation to this invisible ecosystem can result in very visible outcomes such as breakouts and dryness as well as damage to skin barrier. As a natural shield against external stressors, it is vital to keep it in balanced.
WHAT CAN CAUSE A DISRUPTION TO MY MICROBIOME?
There are a number of things that can affect the natural order of our microbiome - over-exfoliation/harsh cleansers, external environmental stressors such as pollution, changes to the environment such as water hardness, climate can all throw these out of balance. The microbiome is connected to the pH level of the skin which tends to sit at pH 5, a more acidic environment where the bacteria thrives. An unbalanced skin PH level can show itself as accelerated signs of ageing, irritation and excessive oiliness. Balancing the bacteria of the skin can be beneficial to breakout-prone skin, as well as dry and sensitive skin and can also help to brighten and even skin tone.
HOW CAN MY SKINCARE ROUTINE SUPPORT MY MICROBIOME?
Essentially based on bacteria, the objective of microbiome centred skin care is to maintain optimum health of the skin so it has the strength to combat anything that could compromise the skin barrier or result in ongoing skincare concerns such as breakouts, signs of ageing, dullness. Homeostasis of the microbiome is a gateway to reducing or preventing more visible or aggressive skincare concerns. 
To care for your skin microbiome, there are an array of prebiotic (to feed existing good bacteria), postbiotic (byproducts of bacteria) and probiotic (to add good bacteria) options available as well as utilising products to remove imbalancing bacteria. 
From The INKEY List range, these products can help to support a healthy microbiome:
Q10 is a powerful antioxidant that works in the upper layers of the skin and helps to protect it from environmental stress.
Other ways to preserve your skin flora include: 
Avoid

 

harsh

soaps and washes to preserve the pH level

and opt for non-fragranced products

.

Don't over cleanse or exfoliate removing natural bacteria. 

Be aware of your overall microbiome - it's thought that imbalances in, for instance, your gut will impact your skin microbiome. 

If your skin is aggravated, reduce inflammation using soothing and cooling products such as our

Madecassoside Mask

.

Support a healthy skin barrier

and build repairing products into your routine.  
For more information on the skin microbiome and for assistance on your personal skincare recipe, contact our team at askINKEY.