Fulvic Acid : What you need to know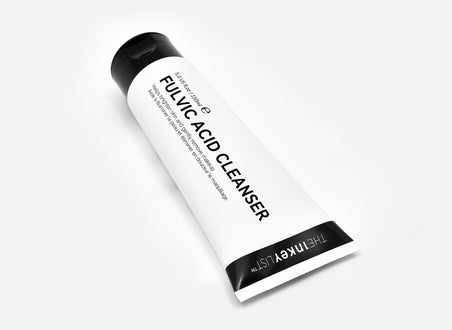 Dull skin can be caused by many factors, one of which is not cleansing the skin properly.
A buildup of dead cells can make the skin's surface rough, and cause skin to absorb light rather than reflect making skin look dull. Our NEW ingredient, Fulvic Acid is the perfect first step in your skincare regimen to achieve that bright, enviable glow!
What is Fulvic Acid?
Sustainably sourced from Finland, Peat is a natural type of mud that comes from swamps which is naturally high in Fulvic Acid, it is richer in nutrients than plants grown elsewhere in the world thanks to the short and intense growth season of Finnish nature. It contains bio-minerals, trace elements, vitamins, amino acids, phyto-hormones and fatty acids, which are all beneficial to keeping skin healthy.
How does it work to brighten skin?
As we've explored in our Bright Skin 101, Fulvic Acid is one of our latest brightening heroes alongside Vitamin C and Symbright. It's benefits include strong antioxidant, anti-inflammator and astringent properties making it ideal for cleansing the skin from dead cells, dirt and debris which can dull it's natural glow as well as soothing inflammation from free radicals such as pollution. In addition, it supports the skin's rejuvenative process for long term effect and protection.
What is in it?
This gentle gel cleanser contains 0.5% Nordic Peat, naturally high in Fulvic Acid that enhances exfoliation and cleanses the skin to reveal a brighter, healthy looking complexion whilst removing makeup including eye makeup. It helps to improve the appearance of uneven skin tone whilst soothing and calming the skin.  The gentle formula is suitable for all skin types including those with sensitive skin.
What are the supporting ingredients?
1.5% KAKADU PLUM EXTRACT:

Sustainably sourced from Australia this extract is said to be one of the world's highest sources of Vitamin C holding 50-100x more than an orange

it helps to instantly boost skin's radiance and luminosity. 

1% LIQUORICE ROOT EXTRACT: A potent antioxidant with soothing benefits, it helps to reduce hyperpigmentation and brightens overall skin tone.

0.5% ALOE VERA:

This gives an additional injection of moisture and wound-healing abilities whilst hosting antibacterial and anti-inflammatory compounds to

help soothe and calm skin.
How do I use it?
This gentle gel cleanser removes all makeup whilst brightening the skin without irritation. It can be used AM and PM, including around the eye area to remove eye makeup, and as the second step of a double cleansing routine - use with an oil based cleanser first as opposed to a foaming cleanser.
As a wash off cleanser it can also be used alongside exfoliating acids and hydrating acids such as Hyaluronic Acid Serum and Polyglutamic Acid Serum. 
For more information on building Fulvic Acid into your skincare routine, contact #askINKEY here