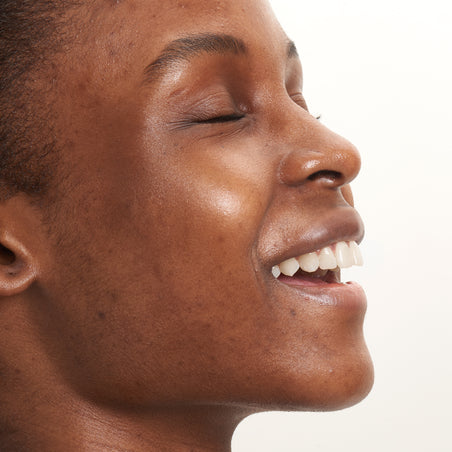 Having a bright, healthy complexion is a skincare goal many people share, in fact it's a top question on #askINKEY! We are passionate about knowledge, so we are here to give you the 101 on why we get dull skin and ingredients that help brighten so you can achieve YOUR brightest skin.  
Why is my skin dull?
Many factors can contribute to why our skin can appear dull, lacklustre and tired including exposure to UV and pollution, the impact of ageing causing the skin's regenerative process to slow down or  not exfoliating or cleansing properly. 
Similarly, It's not just the outer layers which have an effect on our skin's brightness - our lifestyle also impacts its radiance. Dehydration is a contributing factor and can be the root of dull skin as the cells need moisture to lift their brightness.  Furthermore, skin restores itself overnight so a lack of sleep can mean it's not had a chance to recover fully from day to day wear and tear. With knowledge, the right ingredients and patience, you can achieve YOUR brightest skin. 
What ingredients can help brighten dull skin?
Everyone's skin is different and brighter skin is subjective for everyone however, there are some ingredients that can help brighten and even skin tone we recommend…
Fulvic Acid: Nordic Beauty peat is naturally high in Fulvic Acid. It enhances exfoliation for brighter and smoother skin. Fulvic Acid is rich with vitamins and amino acids giving it potent anti-inflammatory and antioxidant properties with anti-inflammatory properties to increase cellular turnover, elasticity, microcirculation and collagen production for a healthy complexion.
Try using the Fulvic Acid Cleanser
Symbright: Symbright is a high purity extract derived from fermentation of Clary Sage and is a  hero protector against environmental stressors such as UV and pollution. It modulates how the outer skin cells (keratinocytes) talk to pigment cells (melanocytes) to prevent pigment production as well as inhibiting UV induced melanin synthesis at a deeper level. Overall it's a great ingredient to help brighten and improve the appearance of uneven skin tone, reduce dark spots & protect the skin from dulling.
Try using the Symbright Moisturizer
Vitamin C: A powerful antioxidant and iconic brightening agent offering multi-functional benefits. It reduces the impact of daily environmental stressors such as pollution and UV and tackles the results such as accelerated signs of ageing, hyperpigmentation and dullness. 
Try using 15% Vitamin C & EGF Serum suitable for sensitive skin
Hyaluronic Acid : Hyaluronic Acid is a powerful hydrator found naturally in the skin. It acts as a magnet for moisture drawing it in from the air around to plump, hydrate and brighten.We think this hydrating hero should be a staple in just about every skincare recipe. Dehydrated skin is different to dry skin, and even oily skin can be dehydrated. Dehydration can show itself through dullness, dry patches and tightness. 
Try using Hyaluronic Acid Serum
Want to know a little more about how to get bright skin, or have a question about your skin or skincare in general?  You can #askINKEY and a dedicated INKEY coach will answer all your skincare questions.