The ultimate hacks for skincare-meets-makeup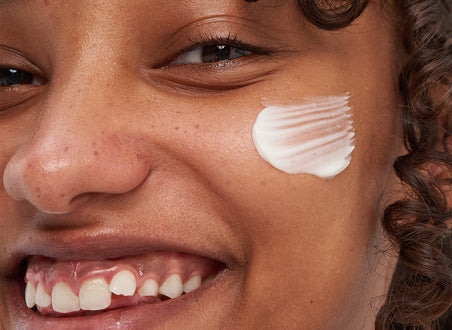 Skincare: it's the ultimate makeup base. Without an effective skincare routine that ensures skin is feeling and looking its best, makeup sort of doesn't stand a chance. Whether you prefer a mattified look or something a little dewier, your skincare can get you half the way there before you even reach for a makeup brush. It's also a brilliant way to make sure your makeup lasts longer; with a solid base, you'll be safe all day long from foundation, blusher and the like slipping off.
Creating the perfect surface for seamless make up application
A great skincare routine can help both directly and indirectly with makeup application. First off, using nourishing must-have ingredients like Hyaluronic Acid Serum, Squalane Oil, and Rosehip Oil can help to keep skin feeling super comfortable and hydrated, meaning makeup goes on more smoothly, and the complexion appears brighter and healthier on the whole. In short, having a great base can help make up adhere more comfortably toon the skin, and /makes for a better application overall. 


Then there are the products that more obviously help with makeup application in a direct, short-term manner, as well as those that can actually work well as products like primer. Some products, like Polyglutamic Acid Serum, work well as a priming base as they mattify skin and create a flattering blurring effect that means you can expect to see your makeup base last all day long. Likewise, our brilliant range of eye creams allow you to put down the concealer and brighten using just skincare, which is especially handy if you fancy going makeup free one day. 
While INKEY is all about great skincare, we also love to mix things up a little when it comes to using our products in unexpected ways. These hacks featuring some of our most beloved buys show you just how versatile skincare can be, particularly when it comes to innovative makeup application. 
The INKEY List product we recommend you try…

Symbright Moisturizer to prime for a dewy skin finish
The aim of Symbright Moisturizer is to instantly plump, brighten, and promote glow, meaning it's a great two-in-one morning face cream and base for makeup. This is especially brilliant if you prefer a dewy, radiant finish and can't get enough of your cream highlighter whenever you apply makeup. We recommend applying this with your fingertips, and even giving skin a little wake-up massage to make things even brighter! If you have an oily or combination skin type, you may however want to avoid putting this on your t-zone so that makeup stays put longer. 
Brighten-i eye cream for a brighter no makeup-makeup day
No makeup-makeup days can be great for the skin (giving it a slight break), as well as the soul. But if you have dark circles or under-eye bags, this is where our Brighten-i Eye Cream comes in; it packs such a punch that it's four times more potent than Vitamin C, meaning instantly brighter under-eyes that look healthier immediately. 
Caffeine eye cream as an under-eye primer 
That said, you may want to opt for Caffeine Eye Cream instead, which focuses more on depuffing the area as it deeply targets dark circles as well as brightening them. If you still feel you need a little product after its application, Caffeine is also a brilliant priming base for makeup, meaning concealer won't cake or crack a few hours after it's been put on.  
Polyglutamic Acid for an added highlight
Another great option if you're going makeup free (or keeping it subtle), Polyglutamic Acid Serum works brilliantly when mixed in with moisturiser or cream/liquid highlighter. Alternatively, simply apply it to the high points of your face (where the light would naturally hit), like on the tops of cheeks, cupid's bow, and at the brow bone for a more targeted approach. This little hack will see you glowing in no time.  
Succinic Acid for subtle colour correction 
Colour correcting makeup products are excellent at improving everything from redness to dullness, and each colour in the wheel has a unique benefit. Green, for example, works brilliantly on red areas, particularly when hiding inflammation caused by acne. This is why our Succinic Acid Treatment targeted treatment can aid in colour correction, as it boasts a green hue. Apply it to the affected area to banish the blemish itself, while also neutralising the redness caused by the nasty spot. Another thing to know about this product is that a little goes a long way, so it'll last for absolutely ages. 
Oat Cleansing Balm for a sheeny lip
Our Oat Cleansing Balm has the most gorgeously rich, decadent texture that leaves skin feeling super comforted and silky soft. For this reason, it could work well as a makeshift lip balm that brings a touch of sheen to your pout. The Oat Kernel Oil in the formula will target any areas of dryness, and the buttery texture will give you that 'your lips but better' effect.  
And don't forget…
No matter which of these hacks you try, or which makeup looks you create with your stash, be sure to remove your products effectively at night time. In fact, makeup wearers will especially benefit from a good double cleanse, which INKEY's cleansing wardrobe is designed especially for. 
For example, we recommend beginning with our beloved Oat Cleansing Balm, which removes makeup in an instant with total ease, while also nourishing the skin to leave it silky soft.  
For acne-prone or oily skin, the Salicylic Acid Cleanser is ideal, targeting blocked and oversized pores, blemishes, and excess oily to effectively wash the face for a secondary cleanse at night (it's also brilliant first thing in the morning!). 
Alternatively, our Fulvic Acid Cleanser works wonder on dull complexions, as it features Kakadu plum, which is super rich in vitamin C to brighten and illuminate. 
Shop all of The INKEY List Cleansers
Want to know more about how to build a skincare routine unique to you or how to best use INKEY products to get the most our of your routine? You can chat to our #askINKEY team now who'll be happy to help build you a personalized skincare recipe today!