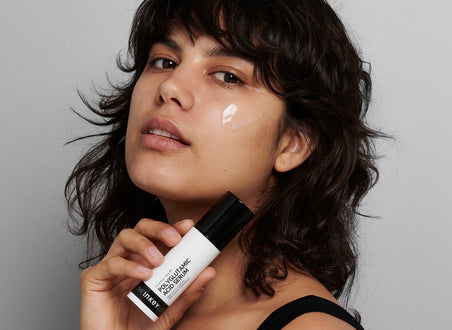 You may have seen the viral TikTok trend "glass skin" all over your FYP these past few months. Glass skin is the Korean beauty term for a smooth, dewy, poreless look (think: a piece of glass). Don't know where to start? We'll take you through a step-by-step guide on how to achieve glass skin with a quick daily lineup of INKEY products. 


How to Get Glass Skin 


1. Double Cleanse 
First, melt away makeup and impurities with a non-drying Oat Cleansing Balm. Follow with Fulvic Acid Cleanser (or Salicylic Acid Cleanser for the acne-prone) to set a clean base for the rest of your routine. 
InkeyTip: You can leave Oat Cleansing Balm on for 10 minutes as a hydrating, nourishing face mask. Face masks are a key step in any Korean glass-skin routine. 


2. Use a Toner 
Remove dead skin cells with a gentle PHA Toner. This step removes dulling buildup and reveals luminous skin beneath. It also clears the way for skin to be able to absorb hydrating ingredients even better.


3. Layer on the Actives 
The best serum for glass skin is one that hydrates and brightens. We recommend our best-selling Hyaluronic Acid Serum or Polyglutamic Acid Serum to draw in moisture for a dewy finish. 15% Vitamin C and EGF serum will leave skin luminous and glassy.


4. Seal in Hydration  
Lock in all the good ingredients you've just applied with a lightweight moisturizer. Omega Water Cream is a gel-based formula that layers beautifully and works to hydrate, even tone, and smooth texture. 


5. Don't Forget SPF 
The importance of sun protection cannot be overemphasized, especially if glass skin is your goal. SPF preserves skin's barrier and helps it stay smooth and radiant over time. We recommend our Dewy Sunscreen SPF 30.


How Long Will It Take to Get Glass Skin?
Wondering how long you'll need to use this lineup to transform your skin into the dewy, glass-like examples you see all over the internet? With the right products, glass skin is achievable for everyone. How fast this happens will depend on your skin type, beginning level of skin health, and lifestyle factors. 
For best results, make sure you're drinking enough water and being consistent with your routine . New products can take up to 6 weeks to deliver the results you're expecting. If your skin concerns are persistent, it's time to see a dermatologist.
If you want Glass Skin advice for your specific skin type, chat to the team at askINKEY.