Hyaluronic Acid Serum : What you need to know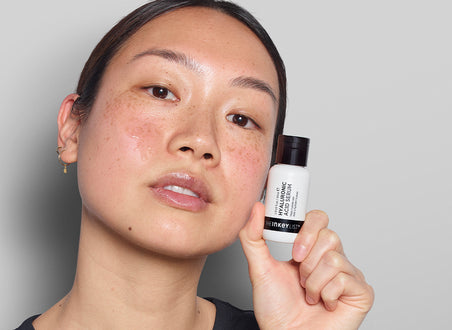 What is Hyaluronic Acid Serum?
Hyaluronic Acid Serum is a powerful hydrator found naturally in the skin. It acts as a magnet for moisture drawing it in from the air around to plump, hydrate and brighten.
Who should use Hyaluronic Acid Serum?
We think this hydrating hero should be a staple in just about every skincare recipe. Dehydrated skin is different to dry skin, and even oily skin can be dehydrated. Dehydration can show itself through dullness, dry patches and tightness.
How do I use Hyaluronic Acid Serum?
Hyaluronic Acid Serum is best applied to damp skin and always followed with a moisturizer especially in dryer climates - if there is no moisture to pull in from the air it can draw moisture from your skin dehydrating skin further!
What can't I mix Hyaluronic Acid Serum with?
You can mix Hyaluronic Acid Serum with everything else in your skincare recipe - we suggest using it as your first step after cleansing - as well as drawing moisture into your skin it can also act as transport for any products you use after, carrying them into the skin and helping them work more effectively!
Looking for even more hydration?
Try pairing with our Polyglutamic Acid. While Hyaluronic Acid Serum works across multiple layers of the skin drawing in moisture, Polyglutamic Acid sits on the surface of the skin creating a thin breathable film, locking in the moisture below while further plumping and smoothing skin. 
Not just for your skin!
Hyaluronic Acid can also be beneficial for your hair helping to reduce frizz and brittleness to improve shine, whilst protecting against pollution.
Our Hyaluronic Acid Hydrating Hair Treatment is formulated to specifically target the hair cuticle.
Apply 1 to 2 pumps to your hands and massage together before working through wet or dry hair and styling as usual!
#askINKEY