The Best Ingredients for Sensitive Skin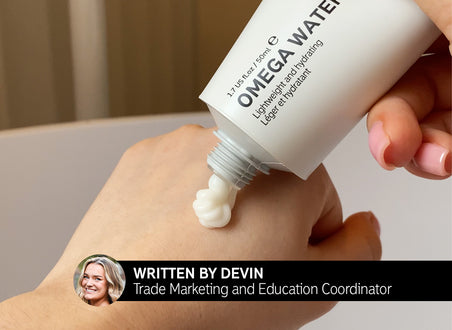 Do you feel like no matter WHAT you put on your face; your skin will still be irritated? Yeah, me too. If you're one of the many people (like me!) who have sensitive skin, finding products that work for you can feel like an endless struggle. With so many options out there, it can be hard to know what products to use or what ingredients to look for. Let's Make (sensitive) Skincare Simple, and start at the very beginning: 
What IS sensitive skin?
The term sensitive skin refers to a wide umbrella of reactions and can be broadly characterized as skin prone to irritation. Reactions to sensitivities can include inflammation, itching, tightness and more. While the general cause of skin sensitivity varies by individual, some of the main culprits of sensitivity are fragrances, dyes and detergents found in skincare products. Skin sensitivity can also signal an underlying condition such as eczema, rosacea or even a potential ingredient allergy. If sensitivity persists or worsens over time, we suggest consulting with a board-certified dermatologist to rule out a more serious underlying issue.
What does a sensitive skin routine look like?
Irritants can vary by individual, but there a few ingredients that can be incorporated into routines that are aimed to soothe sensitive skin: 
Step 1: Cleanser
When it comes to cleansers, sensitive skin types should look toward nourishing, non-stripping ingredients that will help maintain a healthy moisture barrier. Often when skin is showing signs of sensitivity, it can be attributed to a damaged moisture barrier, and harsh cleansers can be a major culprit. We recommend finding a gentle cleanser with soothing ingredients like Hyaluronic Acid, Glycerin, Colloidal Oat and more. Hyaluronic Acid is the key ingredient in The INKEY List's
Hyaluronic Acid Cleanser
. This cleanser contains a unique formula of 1% Hyaluronic Acid complex and 1% Inulin compound that immediately and deeply hydrates the skin, supports a healthy skin barrier and optimizes skin PH levels.
​
To soothe irritation and redness, we also recommend
Oat Cleansing Balm
from The INKEY List. Containing two different kinds of oat, Oat Cleansing Balm is formulated with Oat Kernel Oil a rich, natural Oat Oil which hydrates and moisturizes the skin, and Colloidal Oat, which contains a high level of skin beneficial actives, making it a must have cleanser to soothe irritated skin and reduce redness.
Step 2: Hydrate
For sensitive skin, hydration is key! We recommend our
Hyaluronic Acid Serum
in EVERY recipe for ALL skin types- sensitive skin included. Hyaluronic Acid is beneficial to sensitive skin types as it can help to immediately soothe dryness and irritation. Hyaluronic Acid Serum is INKEY's hydration super serum that helps the skin to draw in and retain water for long-lasting hydration. This daily essential is lightweight and rapidly absorbed, pairing perfectly with the rest of your skincare to gently soothe sensitive skin.
Step 3: Treat
Treatments for sensitive skin should focus on gentle and soothing nourishment as sensitive skin can be easily irritated. We recommend treatments with hydrating ingredients that work to repair and maintain the skin's moisture barrier, such as Polyglutamic Acid.
Polyglutamic Acid Serum
is a powerful humectant that can hold up to 4x more water than Hyaluronic Acid and help maintain the skin's moisture levels. This naturally occurring surface hydrator enhances skin moisturization and combats dryness.

For additional soothing, we recommend
Ceramide Night Treatment
. Ceramides work as the glue that binds skin cells together, helping the skin's barrier feel rehydrated, supple, and protected. This treatment is also formulated with hero-hydrator Hyaluronic Acid for additional nourishing hydration.
Step 4: Moisturize
When choosing a moisturizer for sensitive skin, is it important to keep an eye out for irritants such as fragrances that are often found in moisturizer formulations. INKEY's
Dry & Rough Skin Solution
contains 10% Urea to deliver hydration to very dry skin and exfoliate rough skin as well as Colloidal Oat to soothe irritation and reduce redness. Developed with dermatologists, this moisturizer is deeply moisturizing and suitable for both eczema and psoriasis-prone skin.
Step 5: SPF
Gentle, non-irritating SPF can often be difficult to find for sensitive skin types. Many ingredients commonly found in SPF can be irritating to sensitive skin, such as fragrances and actives in chemical sunscreens. The INKEY List's new GAMECHANGING
Polyglutamic Acid Dewy Sunscreen SPF30
contains an 8% hydration trio of skin-loving ingredients like Polyglutamic Acid, Glycerin and Squalene. These three hydration heroes work to ensure skin is hydrated and soothed while also being protected by this SPF's broad-spectrum defense.
All skin is different, and what works for one person might not work for your skin. As you test out new products to find what works best for you, we recommend for all skin types, particularly sensitive skin, to
patch test
. 
Apply a small amount of the product on dry cleansed skin of your inner arm, and wait at least 24 hours to see if any irritation occurs. If you notice any irritation such as redness, itchiness or burning, rinse off and discontinue use.
Be sure to introduce new products slowly, and one at a time, so that you can easily identify any sources of irritation. 

Our mission at The INKEY List is Making Skincare Simple, and our #askINKEY experts are available to help you out with any questions you might have regarding your sensitive skin routine.