5 Reasons You Should Be Using Retinol In Your Routine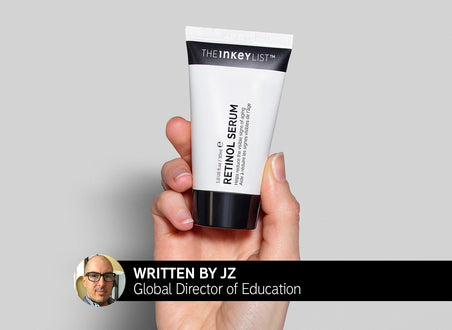 Retinol is a commonly used ingredient in skin care products world-wide, but why? It's all because of the many benefits found in this derivative of Vitamin A. Retinol is most known for its anti-aging (collagen production benefits), but Vitamin A is often prescribed by dermatologists as an acne solution.
The good news is that there are different levels of Retinol available, so you'll be able to find the best one that is suitable for even sensitive skin. But if you're still wondering why adding Retinol to your routine is beneficial for your skin, we're going to highlight the top five reasons that you should be using Retinol Serum in your routine and explore how this ingredient can transform your skin.

1. YOU'VE CELEBRATED YOUR 25TH BIRTHDAY…
As you enter your mid-twenties, it's important to pay special attention to your skincare routine. First signs of aging can start to appear, including the appearance of fine lines and wrinkles. If you notice the first signs starting to show, Retinol is an excellent go-to ingredient to incorporate into your routine. This powerful Vitamin A derivative helps stimulate collagen production in the skin resulting in a more a healthy smoother looking appearance. At this age an introductory Retinol product that has a low percentage (0.1%, as in our Retinol Serum) will allow you to become acclimated to the benefits this ingredient provides to the skin. It's the perfect Retinol for beginners.


2. YOU'VE SKIPPED OUT OF USING SUN PROTECTION
Hyperpigmentation can be a frustrating condition to deal with. It's characterized by dark patches on the skin, caused by excess melanin clustering together. These spots can range from melasma, which arises due to hormonal changes, to sunspots resulting from unprotected sun exposure, or post inflammatory hyperpigmentation caused by injury or trauma to the skin.  Fortunately, there are treatments available for this condition and one of the best solutions is using Retinol. Retinoid when used topically helps speed up the natural turnover rate of skin cells – thereby reducing hyperpigmentation over time. If you're looking for a way to even out your complexion and decrease dark spots on your skin, Retinol might just be the remedy you're looking for!


3. YOU WANT TO UP YOUR GLOW GAME
Uneven skin texture can be extremely frustrating, as it often makes intricate areas of the face feel rough or bumpy to the touch and gives the skin a dull appearance. Dehydration is the leading cause of uneven texture, due to an accumulation of stubborn dead skin cells that haven't shed yet. To get rid of those pesky dead cells and help restore your complexion back to its bright and glowing self, dermatologists recommend using topical retinoids and retinols as an effective treatment option.  
Uneven skin tone and texture are two different conditions: uneven tone means having discoloration or uneven coloring, while uneven texture means having too much dead skin build up on the surface, resulting in a dull complexion. To help treat uneven texture all you need to do is keep your face exfoliated and hydrated - this will help get rid of any accumulated old cells, while also nourishing new ones.


4. YOU STRUGGLE WITH BLEMISHES & POST-ACNE MARKS
Acne can be a real problem and if pimple patches and spot treatments just aren't doing the trick, it might be time to turn to something with a bit more power. Enter Retinol products for breakouts – which have been recommended by doctors and dermatologists for over 50 years. Our Retinol Serum is one of those miracle ingredients that really packs a punch when it comes to banishing blemishes. It helps speed up cell turnover and regeneration while exfoliating cells on the outermost layer of skin. This makes them an ideal choice as they've been proven to increase cell turnover, clear pores and keep skin clearer.
If you're a seasoned user of Retinol Serum and need a little extra help in healing scars and hyperpigmentation, you can try our stronger 1% Retinol, Scar, Mark & Wrinkle Solution.


5. YOU'RE SEEING SIGNS OF AGING AROUND THE EYE AREA
Caring for the skin around our eyes is just as, if not more important than caring for the rest of our face. After all, it's one of the first areas to show signs of aging – such as fine lines and wrinkles. The eye area is especially vulnerable because it doesn't have a thick layer of protection like other parts of our face. This makes it more susceptible to environmental factors that cause damage, like pollution and UV rays. Luckily retinol can help reverse signs of aging such as smoothing out look of wrinkles, and fading appearance of dark circles and under eye hollows. Consider our Retinol Eye Cream formulated to reduce the appearance of fine lines and wrinkles while giving extra support to your most fragile skin.

Now that you know the top five reasons for using a Retinol product, it's easy to see how this skincare powerhouse can help any beauty routine. The important thing is to find a Retinol product that's right for your skin type and then use it as directed. Start slowly by incorporating it into your routine just once or twice a week and gradually increase usage as your skin becomes acclimated. You'll be glad you made the switch to retinol when you see the amazing results for yourself!