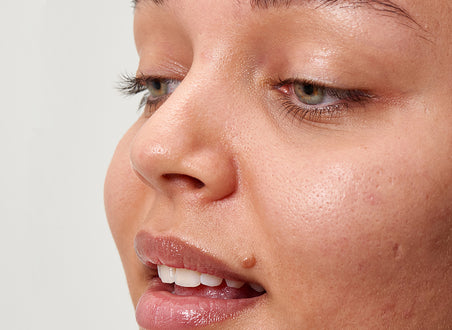 Whilst pigmentation in the skin is natural and what forms our glorious spectrum of skin tones, overproduction or underproduction can cause patches, spots and unevenness. Hyperpigmentation specifically is when too much Melanin is created as a result of scarring, inflammation, hormones, sun exposure or ageing. 
WHAT IS HYPERPIGMENTATION?
When it comes to pigmentation, there are a variety of different types with a range of causes and attributes. 
HYPERPIGMENTATION is simply the over production of melanin by skin cells called melanocytes which creates darker patches on the skin and can occur all over the body including the face
. It can be caused by acne and skin traumas and injuries, sun exposure, hormone changes such as pregnancy or contraception, certain medications and genetic factors such as skin type (darker skin types are more prone to pigmentation change). 
There are a few variations of hyperpigmentation: 
PIH (POST-INFLAMMATORY HYPERPIGMENTATION): Not to be mistaken for scarring, PIH is areas of dark or red skin that appear after acne or a trauma to the skin such as dermatitis, infection or burns, has healed. PIH is the result of skin increasing melanin production in the area of skin as part of the healing process. Scarring is more connected to the production of collagen which causes raised lumps or indentations post-pimple. 

MELASMA:  this form of Hyperpigmentation which is caused by hormonal changes. This can frequently occur during pregnancy

SOLAR LENTIGINES – also known as sunspots, are  a patch of darker skin (similar to a large freckle) that are caused by sun/UV exposure
MOLES/FRECKLES: These are formed due to an overproduction of Melanin in a very specific area and in a cluster formation - they can be genetic or due to excessive sun exposure. 
In opposition, HYPOPIGMENTATION is where there is a lack of melanin production and leaves white or lighter patches on the skin
 such as Vitiligo which happens when the melanocytes, responsible for creating the melanin which gives the skin its' colour, are destroyed - making the skin lose colour or turn white
.
WHAT INGREDIENTS HELP TO GET RID OF HYPERPIGMENTATION?
There are several approaches to targeting Hyperpigmentation, from overall brightening, targeted topicals and preventative and regenerative measures. Ingredients such as Alpha Arbutin, Tranexamic Acid and Rosehip Oil are specific to targeting hyperpigmentation by focusing on lifting the specifically darkened areas whilst Vitamin C based products can brighten the overall skin tone.  Retinoids/Retinol also have a beneficial impact by speeding up the regeneration of the skin so these patches pass through the surface quicker.  
Here's the heroes to add to your routine to take the hype out of hyperpigmentation... 
Our gel treatment targets hyperpigmentation, uneven patches and dark spots and brightens your skin's complexion. This anti-inflammatory active helps to block the transfer of the melanin pigment from the melanocytes into the epidermis whilst also slowing down the over-production of the melanin. 
Formulated with 2% Tranexamic Acid, 2% Acai Berry extract to promote even skin tone, as well as 2% skin brightening hero Vitamin C, it also boosts overall skin brightness.
HOW TO USE: Can be used in your AM & PM skincare routine. Apply a pea-sized amount of Tranexamic Acid Serum to the face and neck. Follow with a moisturizer.
When skin regeneration slows down (often impacted by age or hormones) then it takes longer for the cells to renew and can feel an even longer process for uneven tone and texture to be worked through. Retinol is your go-to ingredient for skin renewal. Predominantly aimed at helping to target the signs of ageing, it also boosts overall skin clarity and uneven skin tone for a brighter, more even complexion.
HOW TO USE: Only use Retinol Serum in the PM. On cleansed skin apply a pea-sized amount and massage into the face and neck. Start off using it 1-2 times per week and increase gradually if your skin can tolerate more frequent use. If you have more sensitive skin, use Niacinamide Serum before Retinol Serum to help decrease irritation. Always use a broad spectrum SPF during the day and we recommend alternating when used alongside AHAs, BHAs and Vitamin C. 
VITAMIN C SERUM & VITAMIN C 15% + EGF SERUM
Vitamin C is a powerful, multi-functional antioxidant and skin brightening ingredient that helps to protect skin from damage caused by environmental pollution (called free radicals). It helps to tackle the appearance of hyperpigmentation, dullness and fine lines. 
Our VITAMIN C SERUM is formulated with 30% pure L-ascorbic Acid, to help your skin appear brighter and targets signs of aging. It also helps to protect against free radicals and pollution. Best used in the AM, the rich, creamy texture gives an instant smoothing effect, making it a great base for makeup.
Combined with plant-derived EGF, our VITAMIN C 15% + EGF SERUM delivers a potent dose of actives to help brighten dull skin and support natural elasticity and skin health. EGF (Epidermal Growth Factor) helps to stimulate skin cells to regenerate and refresh the dermis, enabling rejuvenated, youthful skin.​ Ascorbyl Glucoside converts to pure Vitamin C on the surface for a brighter, more even-looking complexion.
HOW TO USE: Gentle enough for daily use in AM and PM, however if only using once per day we recommend AM. On cleansed skin apply a pea-sized amount to face and neck. If you would like to use other skin care products on top, wait around 10 minutes before using them. This gives the skin cells enough time to respond to the EGF and it won't affect the cell rejuvenation process.
A gentle, yet powerful treatment to use in your PM routine that works to significantly reduce hyperpigmentation and helps fade marks caused by blemishes or breakouts.

Its unique formula of; 10% Mandelic Acid derived from bitter almond, 0.1% Retinol helps to even skin tone and texture.
Dermalogically and clinically tested, it has been proven to help with reducing the appearance of dark spots, hyperpigmentation and post-breakout marks*
*Based on an independent clinical trial under dermatological control, 20 participants, October 2021
HOW TO USE: For use in your PM skincare routine. Gently pat a thin layer of Mandelic Acid Treatment into affected areas after you have cleansed your skin. We advise always using SPF in the morning as Mandelic Acid Treatment can increase sun sensitivity.
FULVIC ACID CLEANSER
Fulvic Acid is a hero at every stage of cell rejuvenation. Our gentle gel cleanser contains 0.5% Nordic Peat, naturally high in Fulvic Acid that gently exfoliates and cleanses the skin to reveal a brighter, healthy looking complexion whilst removing makeup. It helps to improve the appearance of uneven skin tone and brighten whilst soothing and calming the skin. 
HOW TO USE: Use  AM  and  PM. Gently  massage  a  small amount, the size of a raspberry onto dampened face, eyes and neck and rinse thoroughly with water.
From a preventative perspective, a good broad spectrum SPF helps prevent Hyperpigmentation from increasing in appearance and impact. Our daily SPF 30 Sunscreen offers broad spectrum protection from both UVA and UVB rays. ​
HOW TO USE: Use in the AM, apply liberally to face and neck as your last step after moisturizer. Use 15 minutes prior to sun exposure. Reapply frequently particularly if perspiring, swimming or towelling.
View all products that target hyperpigmentation
TOP TIPS FOR GETTING RID OF HYPERPIGMENTATION & DARK SPOTS
Sun exposure and further inflammation can increase the production of melanin and the appearance of hyperpigmentation causing the prominence and spread of dark patches. Reduce your time and exposure to the sun and make sure you're regularly topping up your SPF. 

Avoid picking at spots and scars which may cause further damage beneath the skin and darker patches or scarring to form. 

Consult a doctor or dermatologist to establish the root cause of hyperpigmentation and for alternative treatments such as chemical peels and microdermabrasion. 
Brighten up your skin care - contact the team at #askINKEY or create your own personalized routine with our Recipe Builder.