What type of skin hyperpigmentation do I have?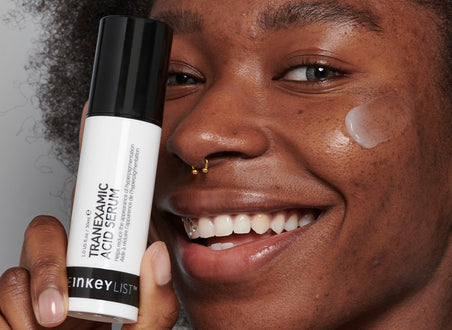 Skin hyperpigmentation can appear in several different forms, and it can sometimes be difficult to know what has caused it and where it has come from. Read on to discover which type you may have, along with the best ingredients and products to target the condition.  
THE TYPES OF SKIN HYPERPIGMENTATION TO KNOW
Sunspots
Perhaps one of the best-known forms of hyperpigmentation, sunspots are caused by long term exposure to the sun. They can appear in several areas of the body as well as the face, including the hands, back, and limbs. Notoriously difficult to shift once on the skin, sunspots prove just how important wearing daily SPF is, as prevention is usually preferable to treatment. As their name suggests, they present as spots, usually round-ish in shape. 
Melasma
Melasma is recognisable through its blotchy appearance, which tends to cover larger areas in patches, unlike singular sun spots. There are many causes for melasma, including an overproduction of hormones such as estrogen and progesterone – which is why some women experience it during pregnancy. Other causes include prolonged UV exposure or infrared radiation. 
Post-inflammatory hyperpigmentation (PIH) 
 As its name suggests, this type of hyperpigmentation occurs post-acne. You will notice it as the little dark areas where your spots used to be; they look like a form of scarring. Post-inflammatory hyperpigmentation occurs when there is an overproduction of melanin after inflammation (acne) in the skin. They can 'live' in groups, or as singular spots. 
TREATING SKIN HYPERPIGMENTATION 
 
One of the most important preventative steps you can take to minimise the risk of hyperpigmentation is to use SPF day in, day out – particularly on your face. UV exposure not only is a causal factor in hyperpigmentation, but can also worsen existing conditions. 
That said, there are ingredients and products you can use to lessen the effects of all three types of hyperpigmentation. The best treatments for hyperpigmentation include: 
Fulvic Acid
Fulvic acid is a hero antioxidant with anti-inflammatory properties, making it perfect to target hyperpigmentation. The Inkey Fulvic Acid Cleanser also features Liquorice root extract to reduce hyperpigmentation further. 
Mandelic Acid 
Our Mandelic Acid treatment uses 10% Mandelic Acid and 0.1% Retinol to target post-acne spots. It works by gently exfoliating and encouraging cell turnover. 
Tranexamic Acid
With a powerful blend of 2% Tranexamic Acid, 2% Acai Berry, and 2% vitamin C, Tranexamic Acid serum is a triple threat, targeting hyperpigmentation, uneven patches and dark spots. 
Retinol
A gold standard in anti-ageing, but also incredibly effective at reversing sun damage and other types of pigmentation, our Retinol serum targets uneven skin tone. 
Vitamin C 
The ultimate antioxidant that brightens and helps to directly target hyperpigmentation, this is great for all forms. Our Vitamin C serum contains 30% pure L-ascorbic Acid for best results. 
Want to know more about pigmentation? Read our
full guide to all things hyperpigmentation
.