Tranexamic Acid : What you need to know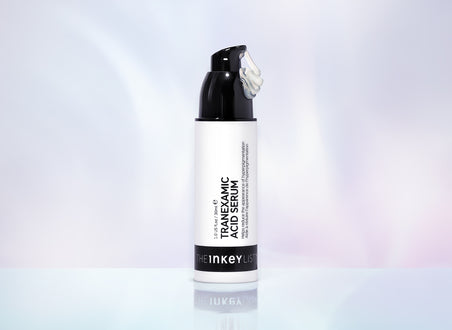 Tranexamic Acid is our go to ingredient to treat pigmentation concerns - whether that's uneven tone, melasma, post-inflammatory hyperpigmentation, dark/light patches or scarring from acne and breakouts. Combining this awesome active with Vitamin C and Acai Berry, our targeted Tranexamic Acid Serum brings a glow to the skin to relieve existing pigmentation as well as preventing new discoloration developing.
As an anti-inflammatory ingredient, Tranexamic Acid impedes the pigment production process (melanin synthesis) both within the melanocytes, the cells where the pigment is produced, through to the keratinocytes in the epidermis (outer layer of skin) where the pigmentation is transferred to and becomes visible. Through breaking this chain, it prevents further pigmentation and tonal disruption. 
The main purpose of Tranexamic Acid is to diminish discoloration, brighten the skin and reduce the appearance of scarring. It can be used by all skin types, colours and sensitivities (although we always recommend doing a patch test when introducing a new product to your routine - particularly if your skin is sensitive or you suffer from conditions such as eczema).
\ tran-x-am-ik \ a-sed
This gel treatment targets hyperpigmentation, uneven patches and dark spots. Making your skin's complexion glow, as well as aiding the reduction of dark spots and uneven skin tone.
Formulated with 2% Tranexamic Acid (a powerful amino acid), 2% Acai Berry extract to promote even skin tone, as well as 2% skin brightening hero Vitamin C, it also boosts overall skin brightness and evens skin tone
HOW TO USE TRANEXAMIC ACID SERUM
This treatment can now be used can be used in your AM & PM routine. Apply a pea-sized amount to your face and neck, and follow with your preferred moisturizer. 
THE INKEY LIST COMBOS
Depending on your primary concern, Tranexamic Acid can level up when used alongside other heros from our range…
If your primary concern is pigmentation, use tranexamic acid alongside Alpha Arbutin Serum for a dual attack on uneven skin tone. 
If your primary concern is scarring, use tranexamic acid alongside Retinol Serum (on alternate days) for healthy skin regeneration. 
If your primary concern is brightening, use Tranexamic Acid alongside Fulvic Acid Cleanser and our Symbright Moisturizer for the ultimate glow. 
To prevent further darkening of patches or pigmentation, incorporate an SPF into your daily routine to protect the skin barrier and slow down melanin production. Reapply regularly on sunny days for maximum efficacy. 
Tranexamic Acid is safe to layer or use alongside all of The INKEY List range without risk of irritation. We always recommend building your routine gradually to allow active ingredients to take full effect.
If you have any questions about Tranexamic Acid or how to build this ingredient into your existing routine, contact us at askINKEY.