How can I treat dark circles?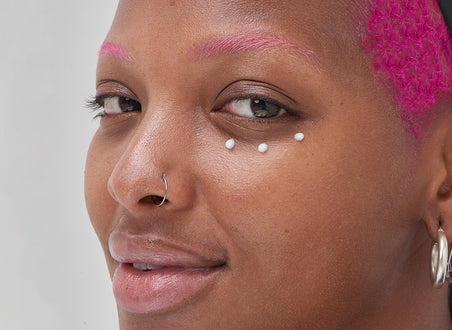 Dark circles under the eyes tend to be a tell-tale sign of a lack of sleep and fatigue but can also be indicators of overall imbalance to your wellbeing. 
Located beneath the lower lid and accompanied puffiness, they can appear as a shadow from puffy eyelids or as a dull coloring and/or sunkenness beneath the eye.
They occur due to the constriction of blood vessels in the skin beneath the eye area and can be enhanced by escalated thinning of the already delicate eye skin as a result of ageing or damage. 
Dark circles appear more commonly as we age but can affect anyone. They may be more apparent for darker skin tones and in people prone to pigmentation concerns.
Whilst fatigue is the most familiar of causes, dark circles can also be the result of allergies (e.g hayfever), UV exposure, ageing, dehydration, medical conditions or deficiencies (e.g iron/anaemia) genetics and straining the eyes. 
Making adjustments to your lifestyle alongside a helping hand from your skincare routine can be the best ways to reduce the appearance of dark circles.
THE BEST INKEY LIST TO TARGET DARK CIRCLES
With tailored formulas suitable for the delicate eye area, here are The INKEY List essentials to brighten your eyes… 
\ ka-feen \ i \ kreem \
A hydrating and lightweight under-eye cream that instantly reduces the appearance of puffiness, dark circles and fine lines under the eyes. Caffeine is a natural antioxidant and acts as a diuretic to help to relieve water retention, a major cause of puffiness under the eyes. The added Matrixyl 3000™ peptide can help reduce the appearance of fine lines.
TOP TIP: For an extra soothing effect to reduce puffiness, store in the fridge for 30 minutes before use.
\ brahyt-n-i \ i \ kreem \
This brightening under-eye cream, four times more potent than Vitmain C, instantly reduces the appearance of dark circles and helps to illuminate and prime the under-eye area for an instant boost or as an ideal make-up base.
Other tips to help reduce dark circles:
Sleep:

with tiredness being one of the main factors for this concern, make a conscious effort to ensure you're getting enough sleep each night and, if feeling slumber deprived, have a few early nights.

Cold:

as dilated blood vessels under the eyes can be a physical cause of discoloration, try holding a cold press (e.g put a damp flannel, eye mask, cucumber or tea bags in the ridge) and hold these on the eyes for some time. This can also reduce puffiness which can cause overshadowing.

Seek further advice: Dark circles tend to be a temporary concern but, if they are persistent or severe, you may wish to consult a doctor or dermatologist to explore their origin.
Want more information on skincare for the eye area? The askINKEY team are happy to answer any questions and help build your personal routine.