|
Niacinamide Serum: What you need to know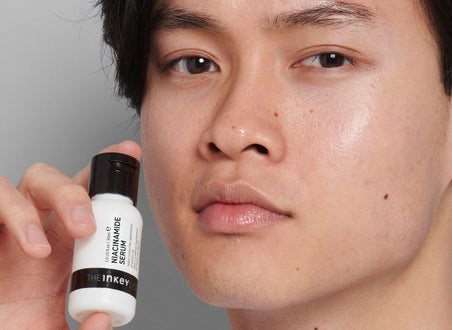 Niacinamide is a form of Vitamin B3 and a highly effective skincare hero that targets a multitude of concerns. Best known for targeting redness, excess oil and enlarged pores, Niacinamide can also be an anti-inflammatory and reduce the appearance of blemishes. 

WHAT IS NIACINAMIDE GOOD FOR?
Niacinamide serum is our first recommendation for those suffering with redness to the skin, from red patches and blotches to skin concerns such as rosacea. This is due to Vitamin B3's anti-inflammatory properties which help soothe the skin and calm blood flow to aggravated areas.
It's also a top ingredient for helping manage oil control and excess sebum produced by the skin which, when under control, can reduce the appearance of pores as well as reduce breakouts since excess oil can be a predominant factor in the cause of blemishes. Whilst oil regulation is a plus, it's suitable for use by all skin types for its wide range of benefits. 

HOW TO USE NIACINAMIDE SERUM
Niacinamide is a potent active ingredient but can be used twice daily in your routine AM and PM. Apply after cleaning and Hyaluronic Acid and before moisturizing. 
While Niacinamide serum can be layered with most ingredients safely, we recommend avoiding combining with Vitamin C serums with a % higher than 15% as layering these two active ingredients can cause irritation. Instead, alternate the time of day you use. For instance, use Vitamin C in the AM and Niacinamide serum in the PM.  We would also recommend alternating with Lactic and Glycolic Acid. It's recommended doing a patch test at least 24 hours prior to usage to ensure no irritation occurs, particularly for those with sensitive skin. 
TOP TIP: If you have more sensitive skin, you can use Niacinamide before Retinol Serum to help decrease irritation.

THE INKEY LIST NIACINAMIDE FORMULAS
Containing 10% Niacinamide, this lightweight, power-packed serum can be easily layered into your skincare routine. A naturally occurring B3 vitamin helps to effectively reduce excess oil, blemishes and redness. Our Niacinamide Serum has a thin consistency and is formulated with 1% Hyaluronic Acid for added hydration and effective delivery.


A lightweight, water-based gel moisturizer that immediately hydrates skin without oiliness. Dermatologically tested, this is a simple combination of an Omega Fatty Acid Complex, Glycerin, Betain and Niacinamide which work together to optimize long-lasting hydration, help control oil levels, promote a healthy skin barrier and even skin tone. ​


This lightweight daily moisturizer includes clarifying Vitamin B3, also known as Niacinamide, to help balance oil. It quickly absorbs to deliver every essential vitamin for healthy-looking skin and formulates Niacinamide with brightening antioxidant Vitamin C, and soothing Vitamin E. Perfect for normal skin types looking to keep skin healthy all year round.

FREQUENTLY ASKED QUESTIONS: NIACINAMIDE
Can you use Niacinamide with Vitamin C? 
We recommend not layering and using Vitamin C in the AM and Niacinamide in the PM.
Can you mix Niacinamide with Retinol?
Niacinamide can help reduce irritation when layered with Retinol which is beneficial for sensitive skin. 
Can Niacinamide cause acne?
Niacinamide helps reduce acne and breakouts through supporting balanced oil regulation. 
Should I use Hyaluronic Acid or Niacinamide first?
We recommend using Hyaluronic Acid first after cleansing and before serums such as Niacinamide. Hyaluronic can help to absorb subsequent actives beneath the skin's surface to maximise results. 
If you want more information about Niacinamide or have questions about building it into your routine, contact us at askINKEY.