|
Our guide to combination skin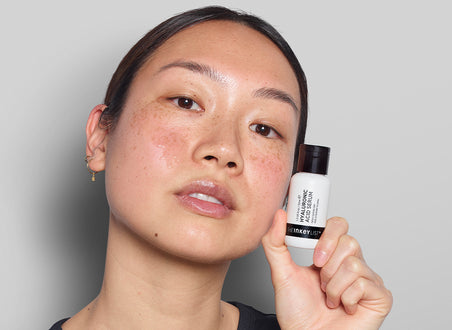 What is combination skin? 
Rather than a skin concern like dehydration, 'combination' is a skin type, just as oily and dry are. It is characterized by oily, dry, and even some 'normal'-feeling areas of the face, meaning it can often feel a little harder to treat as a whole.
Do I have combination skin?
As mentioned, combination skin types feature both dry and oily areas, meaning they're relatively easy to spot, and indeed are very common. Oftentimes, the oily areas of the skin are around the T-zone (on the nose, forehead, and chin), while dryer patches tend to sit at more fleshy areas like the cheeks. Those with combination skin types can sometimes find that their skin fluctuates more depending on what season it is, too. For example, skin may be noticeably more oily in summer, and flakier and drier in winter. 
Learn more about understanding your skin type with our guide. 
What can cause combination skin? 
Like with any skin type, so many factors can contribute to a person having combination skin. 
Notably, genetics and hormones play a large role in determining your skin type, and deciding whether you will experience areas of dryness and oiliness separately, or at the same time. 
However, outside factors such as humidity and environmental aggressors like pollution can also have an impact on skin type, as can the type of products you use. Too many acids, for example, can dry out the skin and cause flaky areas, while pore-clogging ingredients too heavy for sensitive skin can cause excess oil and breakouts. 
What products are best suited to combination skin?
The key to treating combination skin is to tend to different parts of your face with varying approaches, avoid harsh ingredients that can make oily bits oilier and dry bits drier, and know where to layer up on product and when to go lightly. 
Many of The Inkey List's products are suitable for all skin types, meaning both oily and dry areas are looked after with ease. We recommend starting your routine with a lightweight cleanser that will effectively clean but not strip skin, such as the Hyaluronic Acid Cleanser, which keeps skin hydrated without clogging pores or encouraging oil production. The product suits all skin types because it is gentle, hydrating, and a great all-rounder
Next up, Hyaluronic Acid Serum is an essential step to follow up with for a deeper level of hydration that will keep dry areas in check. Once this is absorbed (wait 30-60 seconds), adding a layer of Niacinamide Serum to the oily areas can work wonders, as can an acid toner such as the Glycolic Acid Toner when used a couple of times a week. 
For dryness, reaching for an overnight treatment such as the Ceramide Night Treatment can be effective when applied to cheeks and the jaw line. This product helps to build up compromised skin barriers and lock in moisture for dry areas. 
Finish up your daily routine with a layer of the Omega Water Cream, which is effective enough to deeply hydrate and nourish dry skin (with the likes of Omega Fatty Acid Complex and Glycerin), but boasts a super lightweight texture, is oil-free, and features Niacinamide, which are all important for oily T-zones. 
And no matter whether you experience more dryness or oil, never forget your morning SPF as your final step!