|
The Ultimate Guide To Identifying Your Skin Type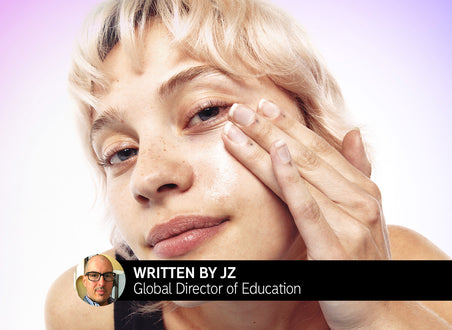 Understanding your skin type is the key to unlocking a world of personalized skincare. From choosing the right products to developing a customized routine, knowing your skin type allows you to address its specific needs and achieve a heathy-looking complexion. In this blog post, we'll explore the different skin types and offer straightforward tips to help you identify your own.  Additionally, we'll reveal the top recommended ingredients recommended for your personalized routine. 
WHAT IS MY SKIN TYPE?
There are four primary 'types' which you can define your skin by and help guide the best products to build into your routine. Read the below breakdown and see which best applies to you. 
Normal Skin: Is your skin balanced in oil production? Are your pores barely visible? Is your skin smooth and has a consistent texture? Are you not prone to breakouts of sensitivity? 
Oily or blemish prone skin: Do you produce a lot of oil? Do you have shiny skin and enlarged pores? Are you prone to blackheads and breakouts?  
Combination Skin: Do you have medium size pores, smooth texture, healthy coloring? Do you tend to be dry on the cheeks and may have some oiliness in the t- zone? 
Dry Skin: Does your skin feel tight after cleansing? Is your skin flaky or peeling? Is it showing signs of fine lines or wrinkles?  
Now that you've defined your skin type, here's how best to target your routine. 
NORMAL SKIN 
Normal skin is generally consistent, though it may vary with seasons. It's more common in younger people and reflects a well-balanced body, making it a valuable indicator of overall well-being. The best routine for normal skin is focused on hydration, prevention, and protection to maintain this skin type's health. 
NORMAL SKIN TIPS
While it can be tempting to see healthy skin as a blank canvas to experiment with, it's important to keep your routine consistent and avoid anything that may imbalance or destabilize unnecessarily. Introduce new products slowly – always with a patch test. Focus on maintenance as well as targeting any other skin concerns which can still occur in this skin type such as pigmentation or dehydration. 
NORMAL SKIN PRODUCT RECOMMENDATIONS
Oat Cleansing Balm removes makeup and SPF in one swipe.  This gentle cleanser also removes impurities and can be used as a hydrating facial mask. It maintains the skin's natural barrier function and prevents moisture loss during the cleansing process. 
Hyaluronic Acid Serum draws and retains moisture from the environment into the skin, plumping the skin and giving it a smoother looking appearance.   
15% Vitamin C and EGF Serum is recommended for normal skin types as it helps to protect the skin against environmental damage, boosts collagen production for firmer texture while brightening the complexion. 
Caffeine Eye Cream targets puffiness and dark circles around the eyes. Formulated with caffeine and a mix of peptides, it leaves you looking more refreshed. 
Omega Water Cream is a lightweight, water-based moisturizer enriched with omega fatty acids to hydrate the skin. It's non-greasy formula absorbs quickly and is suitable for all skin types. 
Polyglutamic Acid Dewy Sunscreen SPF30 is a multi-tasking sunscreen that not only provides broad-spectrum protection against harmful UV rays, but also hydrates the skin.  It creates a dewy, glowy finish, leaving your skin also primed for makeup. 
OILY SKIN
Often caused by overproduction of sebum, this skin type can have visible excess oil on the skin and blocked pores which can cause increased breakouts, blemishes, and blackheads. When building a routine targeting oily skin, use the AM to cleanse, protect with antioxidants and lightly moisturize. In the PM is where you can build in a double cleanse and chemical exfoliants for deeper cleansing.  
OILY SKIN TIPS
Try a double cleansing technique in the PM to first remove makeup, SPF and impurities with Oat Cleansing Balm and then deep cleanse the pores. When exercising, we recommend cleansing oily skin both before and after to stop pores from becoming clogged by sweat.  
It's still important to use a moisturizer even with oilier skin types. Choose a light moisturizer and make sure it's non-comedogenic. 
OILY SKIN PRODUCT RECOMMENDATIONS
Salicylic Acid Cleanser includes an added zinc compound formulated to assist with oil-control, reducing blackheads and breakouts, while promoting a more even skin texture.  Top Tip! It can be used on other others where you might experience blemishes, like your chest or back. 
Hyaluronic Acid Serum is suitable for oily-prone skin because it is a lightweight, non-greasy formula that provides essential hydration while not clogging pores. 
Beta Hydroxy Acid Serum offers exfoliating properties that help unclog pores and reduce oil production. By gently removing deal skin cells and impurities, it promotes a clearer complexion. 
Niacinamide Serum is a versatile skincare treatment with numerous benefits: excess oil absorption, minimizing the appearance of pores while calming redness – specially formulated for those with t-zone oiliness.  For oil control of your face, consider our Excess Oil Solution that is clinically proven to control oil for up to 8 hours. 
Omega Water Cream is an oil and silicone free moisturizer that provides hydration, strengthens the skin barrier, and improves overall skin health. 
COMBINATION SKIN 
This skin type typically displays an oily t-zone (forehead, nose, and chin) while the cheeks are normal or dry, but it can be a combination of any different types of skin. When approaching a routine for combination skin the key is to work on the different areas. Strategically mix and match products to deal with the different needs of the different parts of your face - treat locally and apply properly.   
COMBINATION SKIN TIPS 
Identify what type of combination skin you have and notice what triggers the skin to change e.g., stress, sleep, diet, hormones. Be aware that there are no products that technically work on combination skin so deep dive into the ingredients to make sure it's what your skin needs.  
COMBINATION SKIN PRODUCT RECOMMENDATIONS
Fulvic Acid Cleanser is ideal for combination skin as it gently exfoliates and removes impurities without over-drying, resulting in a balanced complexion. 
Glycolic Acid Toner helps exfoliate and brighten the skin, targeting oily areas and promoting a more even skin tone. 
Omega Water Cream provides lightweight hydration without making the skin greasy. It's omega rich formula balances the skin's hydration levels, addressing both dry and oily areas effectively. 
Squalane Oil: Lightweight and non-comedogenic, it can be applied to dry areas to provide extra hydration without causing greasiness on oily zones. 
DRY SKIN 
Dry skin results from insufficient sebum and water in the skin's upper layers. Distinguish between dry and dehydrated skin for targeted care. Focus on replenishing moisture and repairing the compromised skin barrier. Optimal skincare routine: AM hydrate, protect, nourish; PM stimulate and treat with gentle exfoliation and skin cell turnover stimulation.  
DRY SKIN TIP 
Support dry skin with a diet rich in essential fatty acids from foods like fish, nuts, avocado and seeds. Omega 3 and 6 supplements can be beneficial. Avoid cold weather, dry air, and hot showers. Hydration is crucial; use Hyaluronic Acid Serum and moisturizer. Choose light products to penetrate and hydrate deeply. Be cautious with over-cleansing and avoid harsh scrubs or cleansing brushes to protect the skin barrier. 
DRY SKIN PRODUCT RECOMMENDATIONS
Hyaluronic Acid Cleanser gently cleanses without stripping away natural oils, helping to retain moisture. It's hyaluronic acid content also attracts and retains water, providing extra hydration to combat dryness. 
Hyaluronic Acid Serum deeply hydrates and retains moisture, promoting a healthier and more hydrated complexion. 
PHA Toner offers gentle exfoliating properties that removes dead skin cells and improves overall skin texture, without causing excessive dryness.  Being a humectant, it hydrates at the same time. 
Polyglutamic Acid Serum provides maximum hydration for the skin's surface, improves the skin's moisture barrier, resulting in a smoother complexion. 
Dry and Rough Skin Solution with a 10% urea content helps to deeply hydrate and exfoliate the skin, improving texture and providing long-lasting moisture. 
SECONDARY SKIN TYPES 
While there are four main skin types, there can also be other 'types' that run alongside them which can also impact how you build your routine. Here are the most common:  
SENSITIVE SKIN 
Sensitive skin is not really a skin type, more of a condition that can go along with other types. It tends to be due to a thinner epidermis layer which means it has less protection and is easily irritated. There is also a difference between sensitive skin and sensitized skin - sensitized skin is sensitivity as a result of external/lifestyle factors such as over exfoliation, diet, dehydration, products and sun which causes the skin to become irritated and skin barrier damage. A routine for sensitive skin should be simple and built up gradually to recognize reactions or changes. Sensitivity is often caused by a compromised skin barrier, so the main focus is to repair and protect before treating other concerns.   
HAVE I GOT SENSITIVE SKIN?
Rashes/reactions/burning/itching

Flushed or red skin

 

Frequently irritated 

 

Broken Capillaries

 
SENSITIVE SKIN TIPS
For sensitive skin, and all skin types for that matter, it's especially important to patch test whenever introducing new products to your routine. Apply a small amount to the inner elbow or behind ear and wait for 24 hours - 48 hours. 
A lot of factors can cause irritation in sensitive skin such as: fragrances, products/routine and active ingredients, weather e.g., wind, hormones, diet, lifestyle, stress, lack of sleep. You can keep a skin diary monitoring food and activities to find patterns and triggers for reactions in the skin.   
If sensitivity increases, strip back to the basics - a simple cleanser, moisturizer and SPF and allow it to stabilize before reintroducing active ingredients. The earlier you treat the sensitivity, the less damage it will have on the skin barrier. 
Be cautious of any products containing fragrances, active ingredients etc which may cause irritation.   
SENSITIVE SKIN RECOMMENDED PRODUCTS
Oat Cleansing Balm - a rich cleansing balm that contains a high level of skin beneficial natural actives, making it a must have cleanser to soothe irritated skin and reduce redness.  
Hyaluronic Acid Serum is recommended for sensitive skin due to its non-irritating formula that effectively hydrates and soothes the skin without causing any sensitivity issues. 
Redness Relief Solution with Azelaic Acid is formulated to help control redness and minimize sensitivity on the skin especially for those that are eczema or rosacea prone. 
Omega Water Cream has a lightweight and non-greasy formula that helps to nourish and soothe the skin, making it suitable for easily reactive skin types. 
AGING SKIN  
As we reach approximately 25 years of age, our skin begins to undergo changes, and the production of essential components like collagen and elastin begins to decrease. Consequently, skin may lose elasticity, develop fine lines, wrinkles, and changes in tone and texture. Fortunately, certain key ingredients can support these natural processes and diminish the signs of aging.
HAVE I GOT AGING SKIN? 
Fine lines/wrinkles

 

Sagging skin

 

Dark spots/patches

 
AGING SKIN PRODUCT RECOMMENDATIONS
Hyaluronic Acid Serum deeply hydrates and plumps the skin, reducing the appearance of fine lines and wrinkles, and promotes a more youthful looking complexion. 
Scar, Mark, and Wrinkle Solution with a potent 1% Retinol content, helps stimulate collagen production, promote skin cell turnover, and reduce the appearance of hyperpigmentation, making it an effective anti-aging treatment. 
Collagen Peptide helps improve skin elasticity and reduces the appearance of fine lines and wrinkles. 
Peptide Moisturizer supports collagen production, improves elasticity, while reducing the appearance of fine lines and wrinkles. 
Retinol Eye Cream, specifically for the delicate eye area, helps to improve skin texture, stimulate collagen, and reduces the appearance of fine lines. 
Polyglutamic Acid Dewy Sunscreen SPF30 combines the benefits of moisture retention and protection against both UVA and UVB rays.  It prevents photoaging and the formation of fine lines, wrinkles and hyperpigmentation caused by sun damage. 
Want support working out your skin type? The askINKEY team are always happy to help - contact us here.