The Science Behind Tripeptide Plumping Lip Balm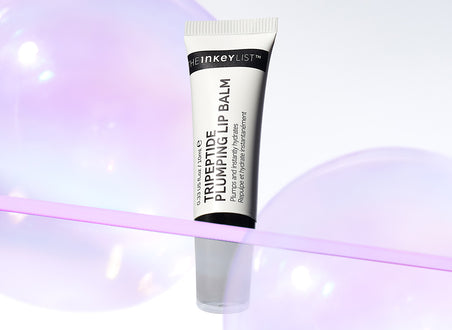 When it comes to lip care, there's more than initially meets the eye. Lips play a crucial role in our facial appearance, and maintaining their health goes beyond just achieving plumper-looking lips. Enter Tripeptide Plumping Lip Balm - a product backed by science, it's formulated to provide both instant benefits and long-term results to achieve your lips, but fuller. In this article, we'll explore the science behind this innovative lip balm, discovering why it's essential for achieving hydrated, smooth, and naturally plumper-looking lips. No filler, no filter, just fuller!
The Science: Why Lips Get Dry and Age
Before we dive into the science of Tripeptide Plumping Lip Balm, let's understand why lips tend to get dry and lose their plumpness. The skin on our lips is thinner than the surrounding facial skin and lacks sweat and oil glands. This makes them more susceptible to dehydration and external environmental factors. Additionally, trans epidermal water loss (TEWL, or the process of water vapor escaping from the skin's surface into the surrounding environment) is higher in the lip area, making them prone to dryness. As we age, the thickness of lip skin reduces, and collagen production slows down, leading to less plumpness and the appearance of vertical lines and wrinkles.
The Solution: Tripeptide Plumping Lip Balm
Enter the hero of our story - Tripeptide Plumping Lip Balm. This innovative lip care product combines science, key active ingredients and nourishing emollients to deliver a range of benefits for your lips. Let's break down what makes this lip balm a game changer:
 6% Tripeptide Complex: These tiny molecules work below the surface of the lips to increase lip volume by targeting the visible signs of volume loss, helping to create plumper-looking, more defined lips over time.
 2% Ultra Filling Spheres™: These spheres are like little hydration heroes. Packed with Hyaluronic Acid, they work to plump your lips, retain moisture, and help fill in fine lines.
 Rich blend of fatty acids & plant oils: This versatile product aims to bolster the skin barrier and preserve moisture for enhanced lip health. At the same time, it visibly increases lip volume through ingredients that avoid causing irritation or sensitivity, setting it apart from traditional lip plumpers. 
Why Choose Tripeptide Plumping Lip Balm?
There are three key reasons why this lip balm stands out:
Your Lips, But Fuller: Achieve naturally plump lips that are up to 40% plumper in just four weeks*, thanks to the potent Tripeptide Complex. So now your lips don't just LOOK fuller, they ARE fuller. 
 *4-week independent clinical study of 20 people
 Hydration and Repair: This lip balm doesn't just stop at plumping. It hydrates, repairs, and smooths fine lines around the lips, leaving your lips naturally fuller and healthier-looking.
 Delivered By Science, Not Irritation: Unlike some other lip plumpers, Tripeptide Plumping Lip Balm is all about results without the infamous tingling feeling. It's delivered by science for an effective and comfortable lip care experience.
How to Use and Incorporate Into Your Routine
Using Tripeptide Plumping Lip Balm is as simple as can be. Apply a small amount to clean, dry lips using the applicator. For the best results, use it consistently, at least three times a day. Whether worn alone or over lip color, this clear balm adds a natural sheen for a glossy finish.
Conclusion
Tripeptide Plumping Lip Balm is more than just a lip plumper - it's a science-backed solution to achieve naturally fuller and healthier-looking lips. With its innovative formula, including Tripeptide Complex and Ultra Filling Spheres™, this lip balm delivers visible results without causing irritation. So, if you're looking to enhance the appearance of your lips, improve fullness, and keep them soft and smooth, make Tripeptide Plumping Lip Balm your go-to lip care essential. 

Have any more questions? Our #askINKEY experts are ready and waiting to help you, chat to them today.