Azelaic Acid : What you need to know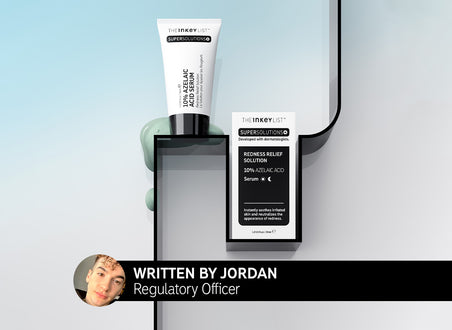 Acne, Rosacea, and redness all have one thing in common - Inflammation. Inflammation is a natural defence mechanism that our immune system initiates to protect us and our skin from foreign bodies and aid wound healing. Unfortunately, as a result of this overprotective mechanism and the increased blood flow to the area, swelling and redness can occur. Research suggests Azelaic Acid as an ingredient can help to reduce the appearance of this redness and calm the skin.
Azelaic Acid is a multifaceted active ingredient with multiple benefits that can target several concerns, proven to be beneficial for blemish prone, rosacea prone and redness prone skin. This ingredient was originally discovered by scientists researching a yeast commonly found on skin (Malassezia furfur) that can alter pigmentation of the skin (Pityriasis versicolour). In their research, they isolated a dicarboxylic acid that was causing this, which is known today as Azelaic Acid. Azelaic Acid has since been found in grains, wheat and other yeast species, theorised to be a way of protecting itself from bacteria.
Azelaic Acid benefits and results
Our Redness Relief Solution with 10% Azealic Acid helps to minimise the look of facial redness and soothes skin. Specifically, our Redness Relief Solution with 10% Azealic Acid has been clinically proven to minimise redness in 4 days* and in a recent independent consumer trial, 91% of participants agree skin was instantly soothed.**
*DISCLAIMER: Independent clinical study of 22 people.
**DISCLAIMER: 4 week independent consumer trial of 22 people under dermatological control.
This formula contains other key ingredients to support reducing redness in the skin;
Gardenia extract – Micro-fine green particles that deliver an instant redness reducing effect, as its green colour counters the redness in the skin (Colour may vary due to being a natural extract)
Allantoin - A great emollient which soothes, comforts, softens and moisturises skin. 
In addition to targeting redness, Azelaic Acid is great for blemishes as it is keratolytic (breaks down dead skin cells) and comedolytic (breaks down comedones such as blackheads). Azelaic Acid has been found to disrupt the process of producing melanin and therefore can disrupt the production of dark spots and hyperpigmentation.
Who is Azealic Acid suitable for?
Our Redness Relief Solution with 10% Azelaic Acid can be used by everyone whose skin needs a little TLC, all ages, all skin types and tones. It is also suitable for people prone to Rosacea*, but avoid putting on open flare ups and we would always recommend patch testing and consulting with a dermatologist or your GP if you suffer from these conditions. 
**DISCLAIMER: 4 day independent clinical study (under dermatological control) of 22 people with Rosacea-prone skin.
Top tip: If you only suffer from mild redness, we suggest trying our Glucoside Serum before trying out the Redness Relief Solution! 
How to use Azelaic Acid
Always patch test before introducing new ingredients into your skincare routine products. Learn more about patch testing here.
Use AM and PM. On cleansed skin, apply a pea- sized amount of Redness Relief Solution with 10% Azealic Acid to face and neck. If using alongside other serums, use thinnest product first.
We would also recommend gradually increasing use from alternating days to daily use. For sensitive skin we would recommend using only AM or PM.
Avoid using additional active ingredients such as BHAs, AHAs or Retinol in the same routine. If you would like to use these ingredients alongside our Redness Relief Solution, ensure you alternate morning and evening after patch testing to minimise risk of irritation.
Always incorporate SPF into your routine- no excuses!
Other key INKEY List products to help reduce facial redness include; Oat Cleansing Balm, Hyaluronic Acid Serum, Niacinamide Serum and Omega Water Cream. Our Redness Solution Routine is a 4-step complete skincare routine to visibly reduce the appearance of redness and soothe skin that feels irritated.
Alternatively, you can use our Recipe Builder and answer a few short questions on your skin concerns and we will recommend you a 4-step starter recipe with a FREE Hyaluronic Acid Serum included.