Is a higher percentage formula better?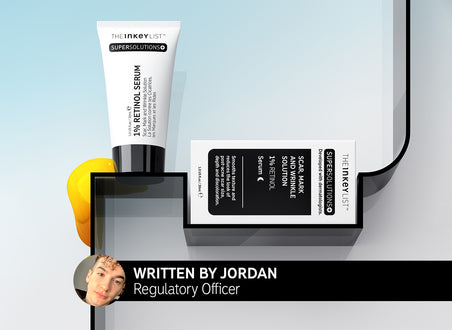 Introducing actives in your skin care routine can be confusing. Actives are an ingredient which have an effect or result in an effect to the skin. These can range from acids which exfoliate our skin, Retinols which help reduce fine lines and wrinkles to antioxidants such as Vitamin C which help protect our skin. When deciding what to incorporate into your routine, you should first make sure the actives you're choosing, tackle any concerns you have or are providing a desired benefit. Secondly, you need to consider the amount of active ingredient that is suitable for you and your needs. This brief guide has been put together to help you figure out which percentage is right for you.
Is a higher percentage formula going to get better results?
In short, a higher percentage is not always better. Make sure you start low and slow before moving on to products with a higher % active. Remember, consistency is key! Consider the cycle our skin goes through each month, its better to provide the active ingredient consistently throughout the cell cycle at a beneficial level to achieve results rather than being too harsh, damaging the skin barrier and potentially making whatever you're trying to target, worse. Be cautious jumping in with a high % of active, always start with either a lower concentration or gradually introduce them to your routine e.g., twice a week to 3 times to nightly etc.
Using a product with a lower concentration of active consistently is likely to have a better effect than a product with a high concentration sporadically for example, if you're prone to sensitivity and want to tackle texture, it would be better to go with AHA's (alpha hydroxy acids) which penetrate the skin less such as Lactic or our Mandelic Acid Treatment at a lower concentration for a longer period of time rather than going for a high concentration of product like Glycolic Acid Toner which penetrates the skin easily, inconsistently.
Do I need a higher % active in my skincare routine?
In most cases, education is the best route before deciding if you need a higher percentage. If you understand what your ingredients do and what you're trying to achieve with your skin, then you can figure out what works best for you. Percentages and formulation aside, sometimes a certain active might just not be for you and looking for an alternative would be a great idea. There are times when a higher % of active is beneficial, for instance our new SuperSolutions range. We developed SuperSolutions with stubborn, more persistent skin concerns in mind. 
Take our Excess Oil Solution with 20% Niacinamide for example, we have an alternative in our core Niacinamide Serum with 10% Niacinamide which is great for most people prone to an oily T zone or combination skin. However, we found in our askINKEY conversations that there are people who experience excess oil production all over the face and the 10% Niacinamide Serum was just not as effective at controlling oil production as they needed. So, we developed the Excess Oil Solution which contains a higher % of Niacinamide (20%) which has been clinically proven to target excess oil.
Acne Solution, Benzoyl Peroxide is extremely effective at reducing blemishes by fighting blemish-causing bacteria. Sometimes Benzoyl Peroxide may just not be the ingredient for you no matter the % or formula, you might find something like Salicylic Acid Cleanser may be better and a little gentler but achieve similar results- figure out what works best for you!
Is a higher % active suitable for me?
The best way to figure out if a product will be right for you straight off the bat is with a patch test. Patch testing is something we recommend here at The INKEY List because you absolutely must make sure your skin agrees with a formula before you cover you face in it. Learn more about patch testing here.
Here are some quick tips to consider when figuring out what product would be right for you:
Have you used the ingredient before? If not, then you should probably opt for a lower %, gradually introduce a product into your routine or go for a product described as gentle/ suitable for sensitive skin.
Does the product contain a complex? A complex is a blend of key ingredients especially designed to improve the efficacy or sensitivity of an active. If the product contains a complex, look at the INCI list (ingredient list) on the side of the packaging and look how far down your active is on the list, if it's close to the bottom its likely lower in concentration within the complex e.g., 1% Retinol complex does not mean 1% Retinol!
Research an active before putting it on your face, do you know what it's for? We make our packaging as educational as possible, look to the box for our little symbols to indicate when to use, how to use and in which order. 
askINKEY, our dedicated team is on hand with expert support on helping you decipher any skincare need. Chat with our team today.
Why does the percentage in formula differ?
It's always important to understand the action of an ingredient as it usually has a golden ratio that will deliver the best benefits. When we were formulating our new Dry & Rough Skin Solution with 10% Urea, we got some expert advice from our consulting dermatologists who highlighted that Urea, when used in a lower %, can be super hydrating but in a higher % has a great exfoliating effect. We decided on 10% to get that balance of the two making it perfect for those suffering with dry, shedding skin- it's also suitable for those prone to eczema and psoriasis.
Looking at % can get a little complicated when you're trying to compare products that contain actives such as retinol. Retinol across the skincare industry is utilised in many products, all with different textures and accompanying formula. The complicated bit is that there are many ways of delivering the desired result of Retinol with different actives. When brands put different versions of an active or complexes within their product, take a little more time to understand or compare products so you know what you're using. For example our Retinol Serum is better for beginners as it contains retinyl acetate which is a derivative of retinol providing a gentler action and is better for long term use. The new SuperSolutions Scar, Mark and Wrinkle Solution has 1% Retinol in its strongest form, so it's better used when you're more experienced with retinol and have more stubborn concerns.
Our Recipe Builder is a great place to start when deciding what % active ingredient is right for you. Alternatively our askINKEY team are available to chat to help you figure out what products are suitable for you and your skin goals.