Is blue light damaging my skin?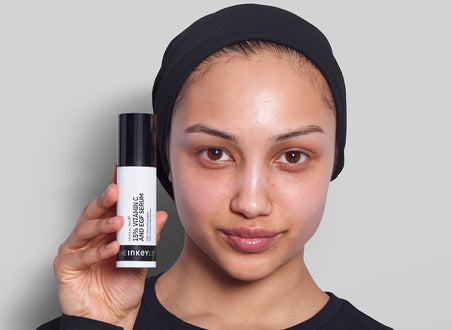 We have heard the research surrounding the impact of blue light on our sleep health, wellbeing, attention span and eyesight but how can the light from our devices and screens be impacting the health of our skin?
Just as UVA and UVB rays from sun exposure cause damage, research is emerging to suggest that blue light can have an effect on your skin also although much research is in its early stages. 
WHAT IS BLUE LIGHT?
Blue light is one of the colours on the visible light spectrum. The sun is the main source of blue light alongside fluorescent and LED lights, and now as well as the light from common screens and devices such as phones and laptops. 
Whilst the sun is the strongest form of blue light, it's the constant stream of exposure from time spent on the devices versus its strength that is concerning skin care scientists.
Blue light is thought to penetrate deeper than UV light, into the dermis, which could potentially have an impact on breakdown of our collagen and elastin fibers, hyperpigmentation and accelerated signs of ageing. 
Whilst there are anti-blue light products emerging, the key ingredients and/or approach is to protect and repair the skin barrier and include antioxidants in your routine as a line of defense to protect the skin on a surface level. The skin naturally produces antioxidants such as Vitamin E but these become depleted when exposed to free radicals such as UV, blue light and pollution. 
KEY INGREDIENTS TO PROTECT & REPAIR AGAINST BLUE LIGHT EFFECTS
SPF 
Our lightweight, broad spectrum Dewy Sunscreen SPF 30 UVA & UVB blends in seamlessly for all skin tones leaving a dewy skin finish. This ultra hydrating, non-greasy formula is THE most important step in your skincare routine and is loaded with skin-loving ingredients like 8% Polyglutamic Acid, Glycerin and Squalane to lock in moisture for smooth, dewy skin. 
VITAMIN C 15% + EGF
Vitamin C, a powerful multifunctional antioxidant, helps to protect skin from damage caused by environmental pollution (called free radicals). Our 15% Vitamin C + EGF Serum combines this with naturally derived EGF (Epidermal Growth Factor) which helps to stimulate skin cells to regenerate, producing rejuvenated, youthful skin.​ 
Q10
An essential antioxidant is Q10 Serum which offers strong free radical protection as well as anti-ageing properties. 
Our serum works in the upper layers of the skin and is a powerful antioxidant that helps to protect your skin from environmental stress. With an added Syn®-Tacks dual peptide and Squalane, this light, hydrating serum also helps to reduce the appearance of fine lines and wrinkles.
VITAMIN B,C & E MOISTURIZER
Vitamin B, C and E are all antioxidants and can help to create a protective layer against free radicals and pollution. Our Vitamin B C E Moisturizer is a lightweight daily moisturizer that quickly absorbs to deliver every essential vitamin for healthy-looking skin, including clarifying B3 (Niacinamide) to help balance oil, brightening antioxidant Vitamin C, and soothing Vitamin E. 
More ways to reduce the impact of blue light: 
Cut down screen time 

Reduce the brightness of screens and use night mode where available.

Wearing headphones versus having screen next to face

Get enough sleep - the disruption to sleep pattern and the impact of device usage can impact the circadian rhythm which includes that of the skin and disrupt the time when it naturally repairs.
Want to find out more or discover your personalised skincare recipe? Talk to the team at askINKEY or create your own personalise skincare recipe today
Written by one of our askINKEY skincare advisors
Our askINKEY team are available 24/7 on our live chat. A friendly bunch, all experts with deep product knowledge, ready to make skincare as simple as possible. Whether you are an ingredient expert or starting your journey, no question is too big or too small, no judgement or jargon, we're here to help and be part of your journey.
Share the article with others