|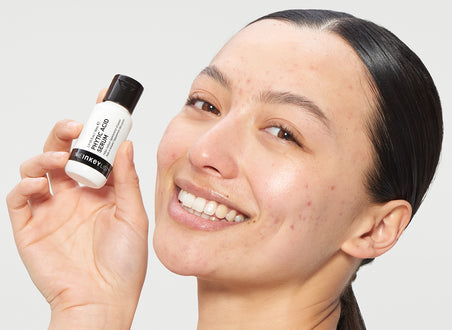 When it comes to selecting skincare products, no matter your level of expertise in the field, it is easy to feel overwhelmed by the endless options available and confusing ingredient lists. It can especially feel intimidating when it comes to the acid variety. But it's all about knowing what each acid has to offer and how to add it to our everyday lineup. 
Today, we're spotlighting a lesser-known acid called Phytic Acid.

WHAT IS PHYTIC ACID?
Phytic Acid, also known as phytate, is an antioxidant Alpha-Hydroxy Acid (AHA) derived from micro-algae. It's extracted from the natural environment first, then scaled up synthetically in bioreactors, which makes it a sustainable resource in the skincare industry. 

WHAT ARE THE BENEFITS OF USING PHYTIC ACID?
Phytic Acid is commonly used to reduce the appearance of pores while also improving the skin barrier over time. Phytic Acid is a collating agent, which means that it essentially acts like a mop to clear up the skin, allowing the skin to rehydrate itself properly. It also has a very light exfoliating effect that is gentle enough to use every day and night. It tightens up the layers of the skin so the pores appear smaller and it supports oil control. 

WHO IS IT MOST SUITABLE FOR?
Anyone can use it, but it is especially beneficial for oily, sensitive, and blemish-prone skin types.

HOW TO USE INKEY'S PHYTIC ACID?
You can incorporate our INKEY's Phytic Acid Serum every AM and PM. After cleansing your skin and hydrating with the Hyaluronic Acid Serum, gently apply a pea-sized amount of our Phytic Acid Serum and pat it into the face and neck. Follow with your preferred moisturizer to finish.
Finally, let's debunk a major skincare myth about Phytic Acid. While it is used to reduce the appearance of open pores, if someone is specifically looking for how to reduce their pore size, the answer is: You can't. Your pores cannot physically change size. But by implementing Phytic Acid into your everyday routine, you can reduce the appearance of large pores, while also supporting your skin with rehydration and balancing oil production. 
If you want to find out more about using Phytic Acid in your routine, talk to us at askINKEY.