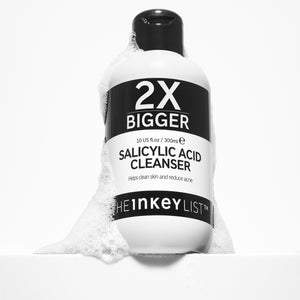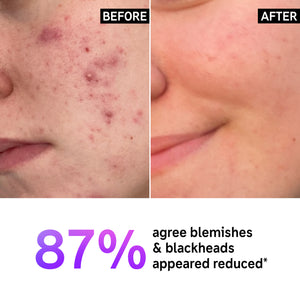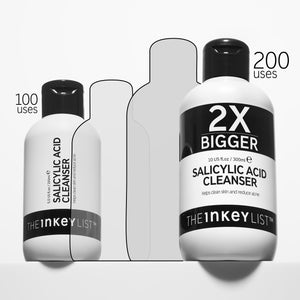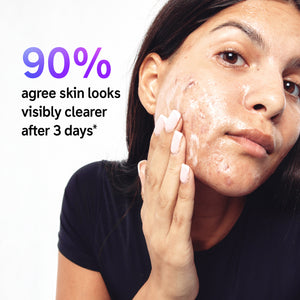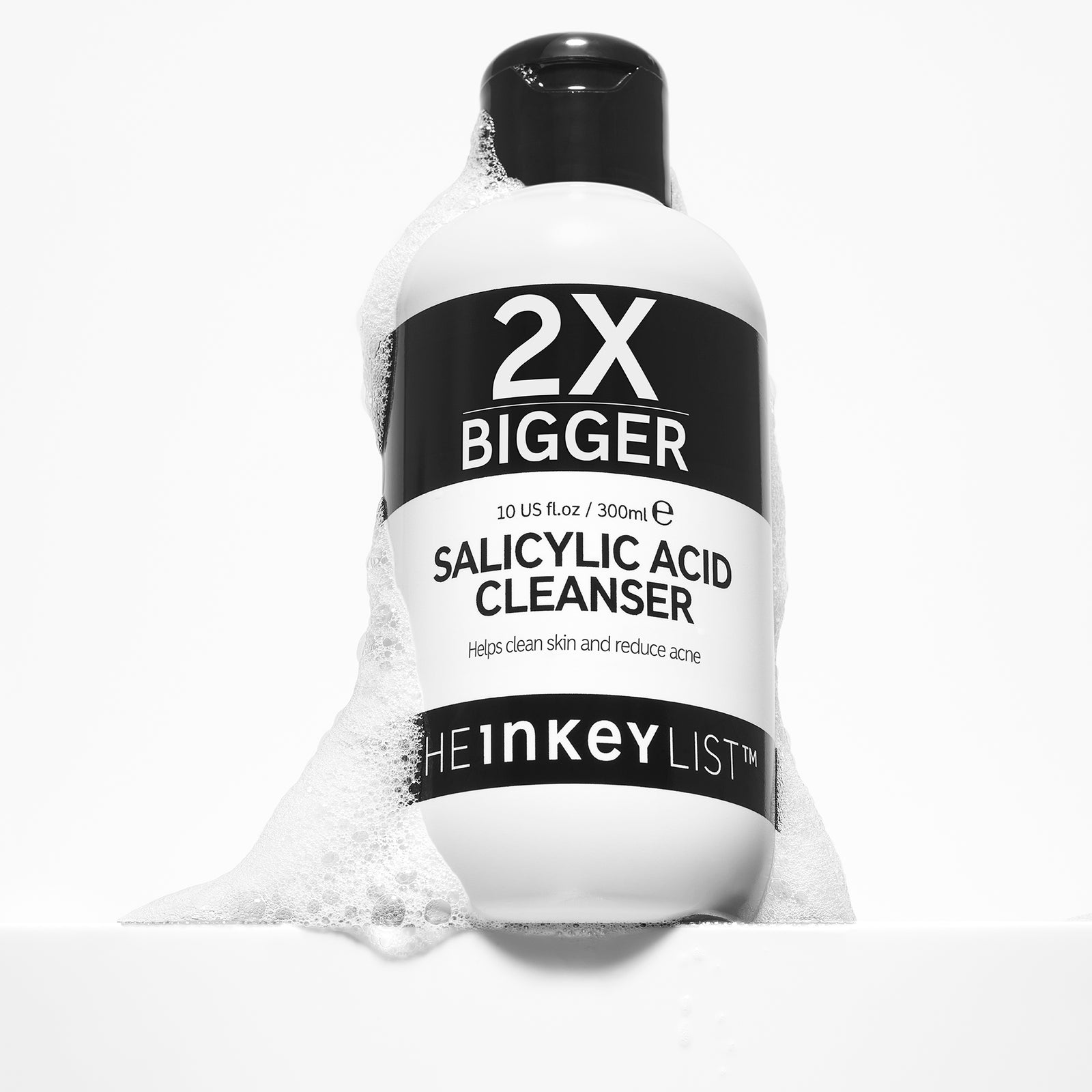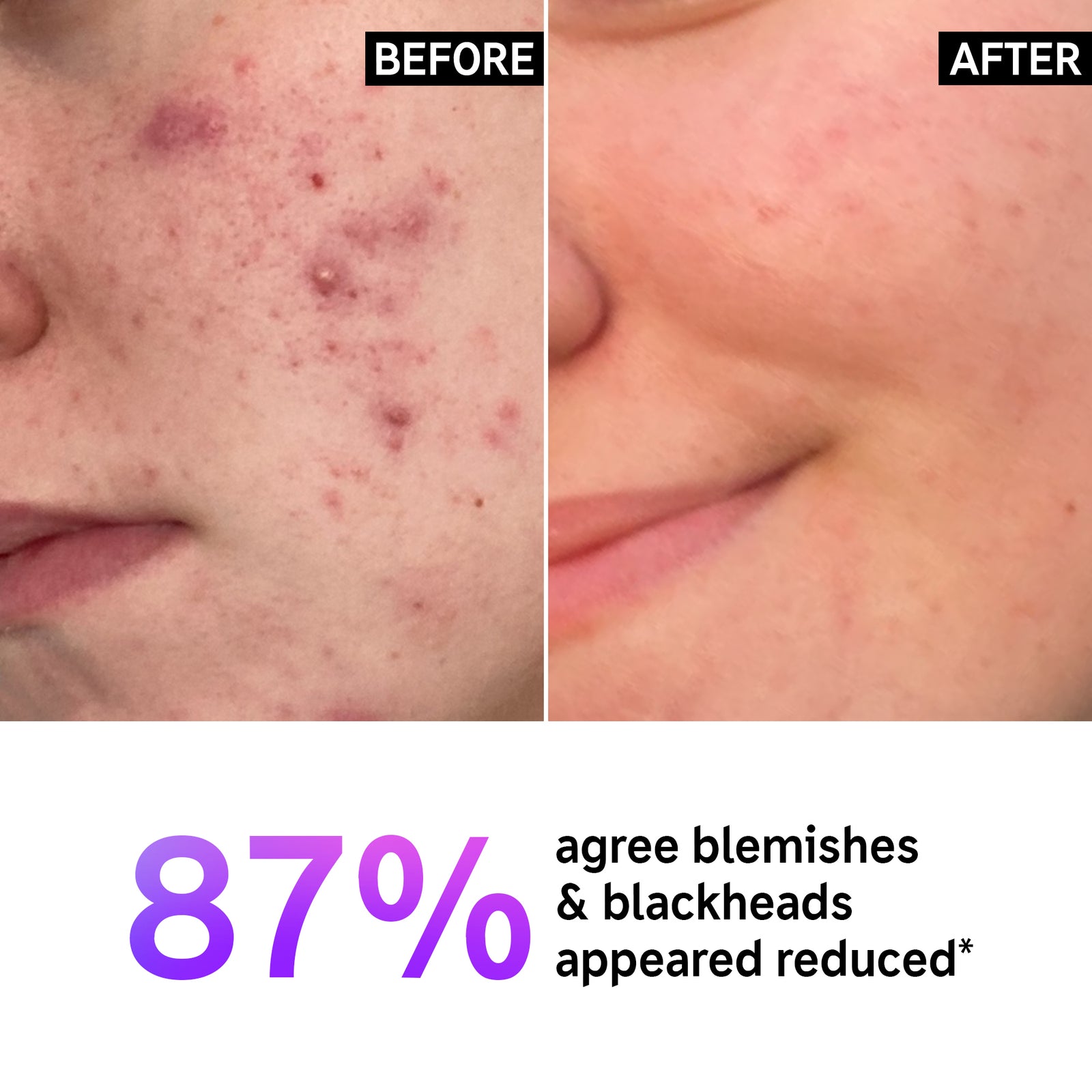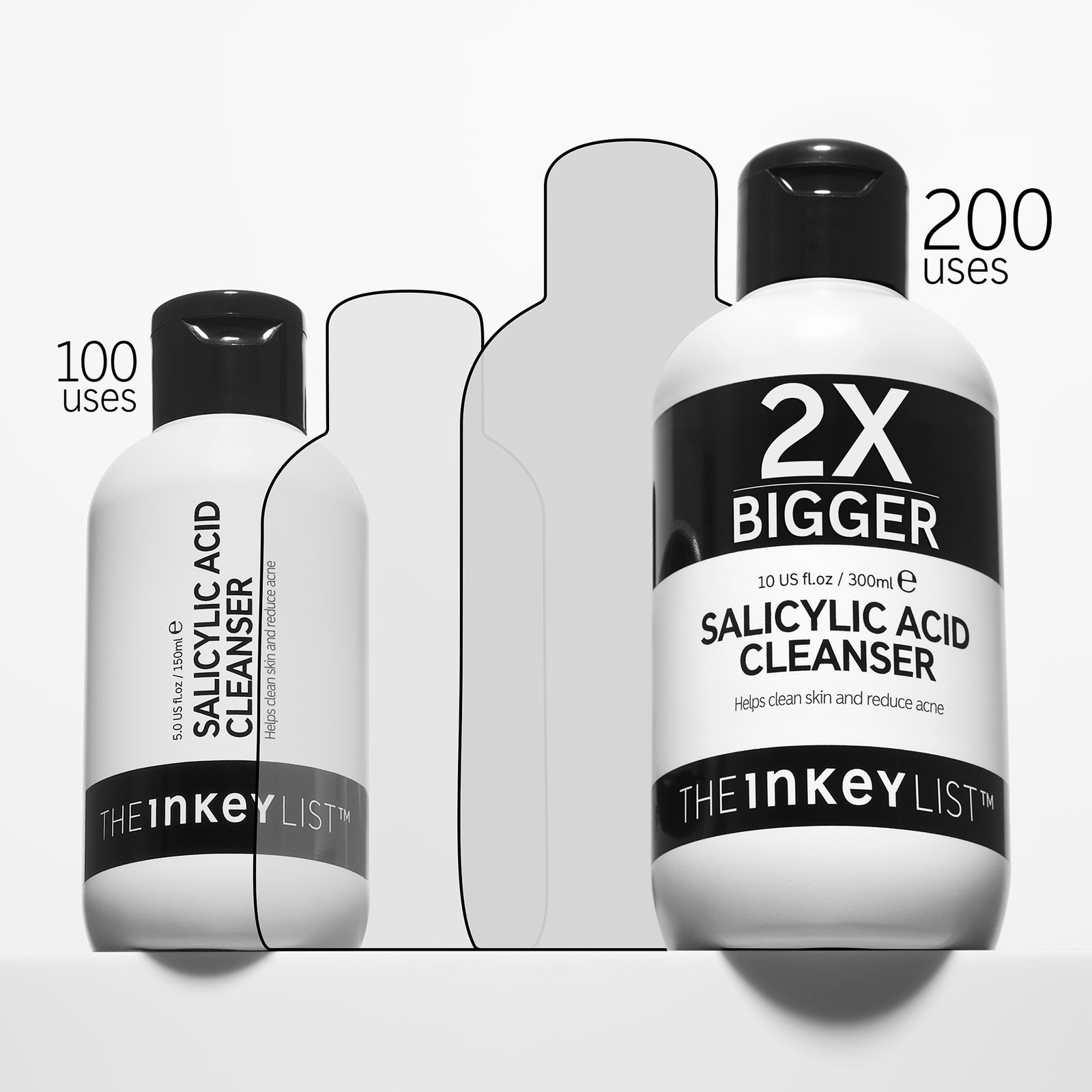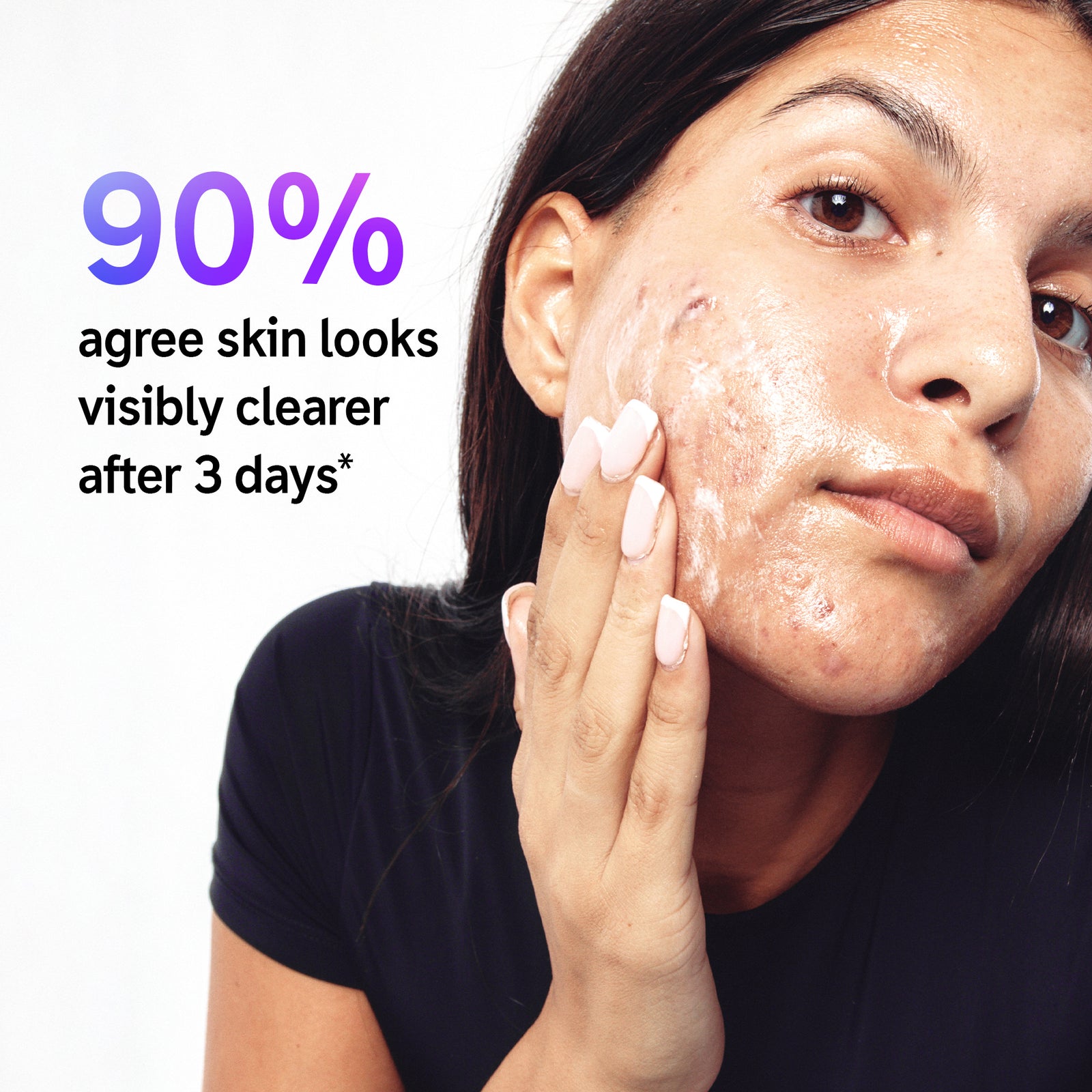 Supersize Salicylic Acid Cleanser
| The INKEY List
Acne, blemishes & oil reducing cleanser
$17.99
(Worth $23.98)
/ 300ml
Loading…
Great news, You qualify for FREE express shipping
Great news, You qualify for FREE standard shipping
You're now just $ away from FREE express shipping
You're $ away from FREE standard shipping
Our bestselling Salicylic Acid Cleanser is officially joining team SUPERSIZE. The ideal size for face and body, now you can get twice as much of your favorite acne blemishes and oil reducing cleanser (that's the equivalent to 200 uses for face) and a 25% saving too. Specially formulated for acne blemishes, combination and oily-prone skin, it helps to visibly reduce acne and blackheads for a clearer-looking complexion.​ ​

Gentle enough for daily use, the non-drying, exfoliating gel cleanser helps to unclog pores and remove dirt, impurities, and excess oil leaving skin feeling deeply clean and clarified.​ ​

The hero ingredient Salicylic Acid (BHA) helps support the skin's natural exfoliation process to clear clogged pores leaving them looking less noticeable. The addition of Zinc compound minimizes excess oils on the skin's surface while allantoin helps to soothe and comfort acne-prone skin.
Suitable for:
Oily Skin

Combination Skin

Normal Skin
Targets:
Breakouts & Blemishes

Excess Oil

Blackheads
Proud to be:
Carbon Net-Zero

B-Corp

Cruelty Free

Recyclable

Vegan

Gluten Free

Fragrance Free

theinkeylist.com exclusive
Compare with...
This product
Have you tried?
This product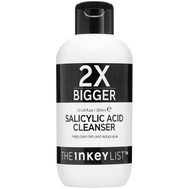 Supersize Salicylic Acid Cleanser
•Suitable for those with mild, occasional breakouts and/or blackheads.
•Gentle enough for daily use, the non-drying, exfoliating gel formula helps to unclog pores and remove dirt, impurities, and excess oil.
Callie has used INKEY products for 2 years. She used Salicylic Acid Cleanser in her routine, alongside Glycolic Acid Toner and Succinic Acid Treatment, to take back control of her breakouts.
"This is after just a couple of months using The INKEY List... I couldn't not show you. I had tried everything before and nothing ever helped!"
"A big part of this journey was Rhiannon's (askINKEY) help and I can't thank her enough for all the helpful advice and product recommendations. This was a whole ride and now I just have to be patient with the hyperpigmentation. Thanks for being present throughout my skincare journey!". Mariam used the myINKEY Coaching Service for 12 weeks.
Shannon shared her myINKEY skin journey with her TikTok followers. She used Salicylic Acid Cleanser AM and PM to control her breakouts, alongside Niacinamide Serum, Beta Hydroxy Acid Serum (BHA) and Succinic Acid Treatment.
"These literally saved my skin as I had been suffering from acne for about 3 years; after incorporating the products into my routine, my skin changed drastically and for the better!"

Hycent used Salicylic Acid Cleanser alongside Tranexamic Acid Treatment and Succinic Acid Treatment for 3 months.
"This is my skin before and after using The INKEY List products. There's still a long way to go but nonetheless I'm a lot more confident than I was in the first picture."

These photos were taken 6 months apart.
"After almost 4 months, my skin has started to feel good. I am free of active acne. Not to mention I had stubborn acne vulgaris. The INKEY List's products helped me to get rid of stubborn active acne. Succinic Acid Treatment helped me majorly."

Shefana also used Salicylic Acid Cleanser, Hyaluronic Acid Serum, Beta Hydroxy Acid (BHA) Serum, Niacinamide Serum, Succinic Acid Treatment, Multi-Biotic Moisturizer and SPF 30 Sunscreen.
Still not sure?
Take our Skin Quiz and choose your personalized routine and free products.
Take The Quiz
Total 5 star reviews: 491
Total 4 star reviews: 81
Total 3 star reviews: 20
Total 2 star reviews: 26
Total 1 star reviews: 42
Reviewing

Salicylic Acid Cleanser

Poren

Ich habe das Gefühl, dass die Poren in meinem Gesicht schwächer geworden sind

Reviewing

Salicylic Acid Cleanser

One of the best cleansers on the market for acne-prone skin

this is one of my all-time favorite cleansers because it simply does its job and is affordable. I get breakouts constantly and using this basically clears my skin overnight or within a few days. highly recommend for those with sensitive skin too because it's very gentle.

Reviewing

Salicylic Acid Cleanser
Reviews Loaded
Reviews Added