4 Ways To Use Skincare For Your Body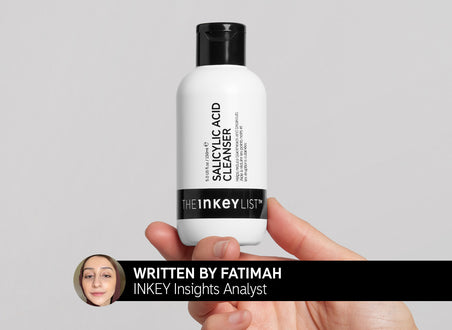 Over 1000 people last year came to The INKEY List looking for body products.  

With the focus usually on facial skincare, we tend to neglect the rest of our skin… on our body! Simple body products like moisturizers and washes have been around for a long time, so what's the new interest about? Actives in Body Care is the trend -  this is all about using key active ingredients, that we all know work on our faces, on other parts of our body. Data shows that the majority of consumers online mainly seek exfoliation and hydration benefits for the skin on their body. In fact, 'body exfoliator' is searched for 9000 times on average per month.  

Did you know you could use some of INKEY's most loved skincare products on your body too? We're all about simplifying skincare so what better way than using multi-purpose products! Below are the top INKEY products to use on your body and hacks to incorporate in future self-care routines. 


Product 1: Oat Cleansing Balm
Want hydrated and comforted, freshly shaven skin? While our Oat Cleansing Balm is powerful at taking makeup off, it is also a great substitute for shaving cream. The key ingredient, Oatmeal, has nourishing and hydrating properties that soothes and smoothes skin. Whether it's your underarms or legs, this will leave you with the smoothest post-shave skin. 

How to use: Treat this like any other shaving cream or gel. Simply apply to the specific area of your body, shave as usual and rinse off. 


Product 2: Rosehip Oil
Whilst facial oils are generally used for dry skin, they can also be applied on hair. Our Rosehip Oil is packed with antioxidants to nourish your skin but can also be used on your eyebrows, eyelashes and even as a beard oil. The healthy fatty acids and vitamins are great for moisturising, softening, as well as making hair look healthier. Please note: avoid getting the oil into your eyes and patch test on a small area of your skin before applying.

How to use: Apply a small amount to the areas mentioned as part of your nightly skincare routine (avoiding getting into your eyes). 


Product 3: Glycolic Acid Toner
Did you know exfoliation doesn't only give you smooth and glowy skin? In fact, if you get ingrown hairs, strawberry legs or appearance of hyperpigmentation on other parts of your body, Glycolic Acid is a powerful active ingredient to beat this. When skin isn't properly exfoliated, the dead skin blocks hair follicles and therefore is trapped under skin; leaving you with annoying ingrown hairs you have to wait weeks to treat. The main areas this can be used on are typically underarms, bikini line and legs. 

How to use: Our Glycolic Acid Serum is in a liquid toner form! Soak a cotton pad or pour straight onto an area of your body, rub in and allow to dry. This can be done 2 or 3 times a week.  


Product 4: Salicylic Acid Cleanser
Acne isn't just limited to your face. Many people get spots and red bumps on areas like their back, chest and shoulders. At 2% strength, our Salicylic Acid Cleanser is great at removing dead skin cells, oil control and getting rid of blemish-causing bacteria; without making your skin feel dry and stripped.  For more information, read our BACK & CHEST ACNE 101 blog. 

How to use: Massage a pea-sized amount into the problem area for about 60 seconds, then wash off. This can be followed by other products in your routine, like body lotions and oils.  

If you have any other questions about how to get the most of out your INKEY products, reach out to our askINKEY.