9 INKEY List Skincare hacks that you need to know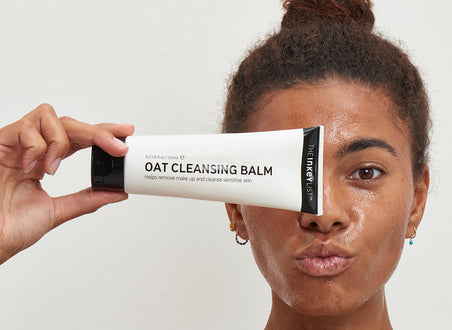 Whilst we spend a lot of time and energy refining the formulas and ingredients of each product of The INKEY List range, there are a few secret life hacks that can level up your routine even more. From unexpected bonus usage to storage hacks - here's the extra INKEY knowledge that's not always on the box…
SKINCARE HACK 1 : Store your Caffeine Eye Cream in the refrigerator 30 minutes before use.
WHY? The cold constricts the blood vessels (vasoconstriction) around the delicate eye area which can reduce puffiness and swelling. This is especially good in the mornings to help wake up the eye area after a good sleep. 
HOW? Simply store your eye cream in the refrigerator at least 30 mins before you intend to use it or overnight so it's ready for an early morning wake up call. 
WHY CAFFEINE EYE CREAM? We recommend this for our hydrating and lightweight CAFFEINE EYE CREAM has a formula that is already designed to instantly reduce the appearance of puffiness, dark circles and fine lines under the eyes. Caffeine is a natural antioxidant derived from coffee, acts as a diuretic and can help to relieve water retention, a major cause of puffiness under the eyes. The added Matrixyl 3000™ peptide can help reduce the appearance of fine lines and the smooth texture provides a perfect canvas for make-up.
SEE ALSO: Brighten-i Eye Cream 
SKINCARE HACK 2: Add Q10 Serum to your moisturiser to protect against environmental stressors.
WHY? A moisturiser is typically the last layer in our skincare routine so infusing it with Q10 antioxidants that protect from environmental stressors such as pollution, chemicals and UV rays on the surface as even more of a protective barrier. 
HOW? Place moisturiser in your palm and add a few drops of Q10. Mix and apply to the face. 
WHY Q10? The Q10 Serum antioxidant works to protect your skin, hydrate it and target signs of ageing. Working in the upper layers of the skin the added Syn®-Tacks dual peptide and Squalane adds to this light, hydrating serum to help to reduce the appearance of fine lines and wrinkles.
SKINCARE HACK 3: Add Collagen Booster to your moisturiser to boost elasticity and firmness of skin. 
WHY? Serums are used before or with moisturisers to help lock them in against the skin and maximise their impact. Mixing with moisturiser can also help to reduce steps in your routine, saving precious minutes in the mornings and before bed! 
HOW? Place moisturiser in your palm and add a pea-sized amount of Collagen Booster. Mix and apply to the face. 
WHY COLLAGEN BOOSTER? This serum works to make the skin appear plumper and firmer, to help reduce the appearance of fine lines and wrinkles. Using the Matrixyl 000™ peptide, our COLLAGEN BOOSTER is a  smoothing and hydrating serum that mimics the effect of what natural collagen would do to your skin, helping it appear plumper and firmer. Syn-Tacks™ Dual Peptide also gives an added boost to aid a reduction in the appearance of fine lines and wrinkles. 
SKINCARE HACK 4: Add Squalane Oil your moisturiser in the PM of your routine for a hydrating night treatment.
WHY? The night is a great opportunity to use thicker or oilier products which can deeply rehydrate or moisturise your skin but may be too heavy for daytime use. The skin is regenerating as it rests overnight so is a prime opportunity to target concerns through night treatments. 
HOW? Put moisturiser in the palm of your hand and apply a few drops of squalane. Mix and apply to the face and neck area. Leave to absorb overnight and then cleanse in the following AM. 
WHY SQUALANE? A natural, super-lightweight face oil, SQUALANE OIL improves skin hydration, helps reduce the appearance of fine lines and supports oil control. 100% plant-derived, this oil is non-greasy and helps to produce healthy, glowing skin. 
SKINCARE HACK 5: Leave Oat Cleansing Balm on the skin for 10 minutes as a nourishing mask
WHY? The natural Oat Oil in this balm cleanser has nourishing and hydrating properties so leaving on a little longer allows the skin to absorb the oil as well as lift deeper set impurities and dirt. 
HOW? Apply an evenly coated layer of the balm to the skin. Leave for 10 minutes. Rinse off with warm water. Follow with a water-based cleanser to double cleanse or with serums/actives.
WHY OAT CLEANSING BALM? Formulated with Oat Kernel Oil, a rich, natural Oat Oil which hydrates and moisturises the skin and effectively removes SPF- the OAT CLEANSING BALM is perfect as a first cleanser in your double cleanse routine. 
SKINCARE HACK 6: Apply Hyaluronic Acid Serum to damp skin for easy absorption of other products.
WHY? Hyaluronic Acid is a humectant and attracts water from within the deeper layer of the dermis and moves it along to the skin surface, the epidermis. Through this process, it can act as a vehicle for other acties to penetrate the skin more deeply and improve efficacy. 
HOW? On cleansed, damp skin, apply a pea-sized amount to the face and neck. Follow with all other toners and serums.
WHY HYALURONIC ACID? This easily absorbed super serum works across multiple layers of the skin, hydrating your skin, helping it appear plump and smooth, while reducing the appearance of fine lines.
HYALURONIC ACID SERUM is a powerful moisture-binding ingredient that works beneath the skin surface and can hold up to 1000x its weight in water. ​ Ensuring your skin is hydrated is essential for it to look healthy, therefore it's a must have step in every recipe! 
SKINCARE HACK 7: Use Niacinamide Serum alongside Retinol Serum to reduce sensitivity or irritation.
WHY? Niacinamide Serum helps regulate oil production and hydration of the skin which can prevent it being dried out by Retinol Serum as well as protecting the skin barrier from damage. It also helps to calm skin and reduce redness and can therefore help to prevent irritation.
HOW? Apply Niacinamide Serum before Retinol Serum in your PM routine. This creates a protective layer on the skin.
WHY NIACINAMIDE? A lightweight, power-packed serum containing 10% Niacinamide that can be easily layered into your skincare routine. This naturally occurring B3 vitamin helps to effectively reduce excess oil, blemishes and redness. Its thin consistency is formulated with 1% Hyaluronic Acid for added hydration and effective delivery.
SKINCARE HACK 8: Use Rosehip Oil on nails and cuticles to relieve dry skin and on lips as an alternative to lip balm. 
WHY? Rosehip Oil is packed with essential fatty acids, Omega-6 and skin beneficial vitamins which hydrates and soothes dry skin and hair.
HOW? Apply to dry areas and leave overnight. Rinse off in the AM of your routine. 
For hair, apply a small amount to palms, rub together and run through the ends.
WHY ROSEHIP OIL? A 100% cold pressed, natural facial oil with antioxidant properties, our ROSEHIP OIL provides an overnight nourishment boost for dull or tired skin and helps tackle uneven skin tone and texture.
SKINCARE HACK 9 : Apply Salicylic Acid Cleanser to acne-affected areas across the whole body such as back and neck.
WHY? The skin covers the whole body and is often affected by the same concerns on the face in other areas, particularly if acne-prone. 
HOW? Using your existing INKEY essential, apply the required amount to cover the affected breakout area. Follow the same instructions as for face, rinsing if applicable. 
WHY SALICYLIC ACID CLEANSER? Our non-drying, lightly foaming SALICYLIC ACID CLEANSER contains key acne busting active, Salicylic Acid. It removes makeup and dirt, while penetrating deep into pores helping to reduce blackheads and breakouts.
SEE ALSO: Beta Hydroxy Acid Serum, Apple Cider Vinegar Peel, Glycolic Acid Toner,  C-50 Night Treatment. 
READ MORE:
AN EXTRA HACK FOR GOOD LUCK: Add Polyglutamic to your foundation for a glowing, dewy finish.
If you are looking to achieve the dewy glass skin look–consider this serum your best friend! To get the look, mix a pea-sized drop of Polyglutamic Serum with your foundation to create a glowing finish. If you don't use foundation, this serum's formula also works really well as a primer base for makeup too because of its ultra-smooth, non-greasy texture.
Amplify your makeup finish even further! Use our Dewy Sunscreen SPF 30, a lightweight, broad spectrum SPF 30 UVA & UVB that blends in seamlessly for all skin tones and is loaded with skin-loving ingredients like 8% Polyglutamic Acid, Glycerin and Squalane to lock in moisture for protected, primed and dewy looking skin.

Want to find out more or get your own personalised skincare recipe? Contact our askINKEY team here.