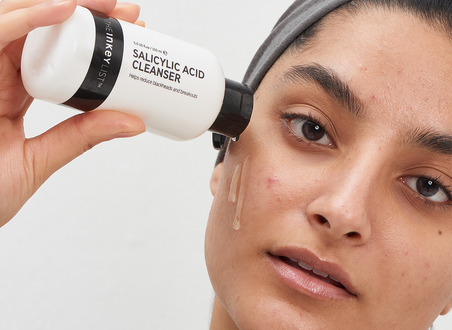 When we start a new skincare routine or try a new product, the expectation is that all our troubles, breakouts and concerns will fade away immediately. Unfortunately, skin purging can be an unforeseen stage that stands between you and your skincare goals.
WHAT IS SKIN PURGING?
Skin purging is a reaction to ingredients that cause increased cell regeneration where impurities and clogged pores are drawn up to the skin's surface - often appearing as a big breakout. 
Whilst this sounds like a step backwards, it's actually a positive phase as these pimple-causing impurities, such as excess sebum, dirt and dead skin cells, will have been lingering beneath the surface. Without the product accelerating their removal, they would have remained until eventually surfacing at some point in the future. 
This can often happen when you add exfoliating products like Glycolic Acid Toner (AHA) and Salicylic Acid Cleanser (BHA) as well as Vitamin C and Retinol Serum to your skincare routine.
WHAT DOES SKIN PURGING LOOK LIKE?
If you're searching for answers around how to know if your skin is purging, it may at first glance look like a typical acne breakout. However, skin purging often takes the form of blackheads and small pimples. Pimples are non-inflamed blemishes that occur when a pore close to the surface of the skin becomes blocked.
WHY IS MY SKIN PURGING?
Skin purging often occurs when you are using a skincare product that encourages existing impurities in the skin to move to the surface to be removed. This renewal process allows your skin to remove dirt and dead skin cells that are clogging the pores, enabling the product to do its job.
PURGING VS BREAKING OUT
When considering the difference between purging vs breaking out, you should first consider whether you have introduced any new products or ingredients into your layering skincare routine. If so, consider the purpose of the product as some will help draw out dirt and dead skin cells. For example, if you are using a retinoid or exfoliating product, such as Salicylic acid, this could result in a retinol purge or a Salicylic Acid purge.
The duration of your pimples and blackheads are also a good indicate to whether it's a result of a purge. Acne that arises from a skin purge is more likely to clear at a faster rate than a regular breakout
SKIN PURGING VS REACTION
Unlike skin purging, which is a temporary skin detox, a skin reaction means your skin is sensitive or allergic to ingredients in the product you're using. If your breakout continues for more than 3 months, after first use, it could be a skin reaction. You should also stop using the product immediately if you have any burning and reddening that does not subside in a few minutes.  
To tell the difference, purging tends to happen in places you frequently breakout anyway. The purging process is working with the skin's cycle and is a phase that should clear up within 4-6 weeks of starting the new routine but can take up to 3 months - anything longer could be more of a reaction.
Similarly, If the product doesn't contain an active ingredient such as a retinoid, exfoliating acid or peel which would or could typically cause a purging effect, then it is more likely to be a reaction to an ingredient.
HOW LONG DOES SKIN PURGING LAST?
The best advice is to push through the purge when these breakouts occur.  Whilst it can be tempting to stop using your current products until your skin settles, we advise you to continue with your routine to allow the process to complete. 
Purging can last up to 3 months, in some cases. If it continues after 3 months, you should discontinue use and seek medical advice on which products might work better for your skin.
Remember, at the end of the purge process is fresh, healthy and clearer skin so keep that in mind as motivation! 
HOW TO STOP SKIN PURGING
If your skin is purging, we recommend persisting with your routine to allow impurities to be drawn from beneath the surface. Whilst it's better to power through the purge, you can try adjusting your routine gradually to reduce its intensity. Start by adding new products once a week and building up to 2-3 slowly. This gives your skin a chance to adjust to the new product and a more gentle purge experience.
HOW TO SPEED UP SKIN PURGING
Unfortunately, you can't speed up the process of skin purging. However, it's important to stay patient. A skin purge is a good thing and allowing the natural course of action will provide benefits to your skin in the long run.
HOW TO TREAT SKIN PURGING
One of the best pieces of advice for anyone experiencing a skin purge is to avoid picking or squeezing acne. This will only increase the length of time of the skin purge and may also lead to scarring. See further tips below!
SKIN PURGING TIPS 
As purging can sometimes result in dryness or dehydration of the skin, we recommend keeping the skin hydrated and nourished with products such as Hyaluronic Acid Serum, Squalane Oil or Rosehip Oil to your routine. 
If your skin is purging vs reacting, stick to your AM and PM routine despite how tempting it feels to stop or change. Clear and fresh skin at the end of the purge will be worth the wait. 
Listen to your skin - if you feel like your skin is reacting, seek out professional advice or guidance and adjust your routine accordingly. 
PRODUCTS THAT PURGE SKIN
Here are some of the products in our range that may have a purging effect and a little insight on why...
As your go-to ingredient for skin renewal, retinols and retinoids can be main players when it comes to purging as their main purpose is to increase the turnover of cell production which can in turn speed up bringing impurities to the surface.
Derived from Vitamin A, this slow release Retinol Serum helps target the appearance of fine lines and wrinkles with less risk of irritation. It also boosts overall skin clarity and uneven skin tone for a brighter, more even complexion. This serum is a perfect introduction to using Retinol for those who are starting to see the signs of ageing. 
BHA is an exfoliator that works beneath the surface of the skin to help unclog pores, target blackheads and reduce excess oil. This can cause deeply rooted impurities to be drawn to the surface. 
Containing 2% Salicylic Acid, this formula penetrates deeper into your skin, BHA is a great choice for oilier skin as its anti-inflammatory and anti-bacterial properties can help calm breakout prone skin without any burning or tingling sensation. Thanks to added 1% Hyaluronic Acid it is non-drying to skin.
This non-drying, lightly foaming cleanser removes makeup and dirt, while penetrating deep into pores helping to reduce blackheads and breakouts.
As well as effectively cleansing the skin, this 2% Salicylic Acid cleanser has an added zinc compound. Together they help with oil-control, reducing blackheads and breakouts and promoting a more even looking complexion.
This 10% Glycolic Acid exfoliating toner helps to reduce the appearance of pores and fine lines, as well as support smoother and brighter skin. 
As it works to remove dead skin on the surface to help improve the overall appearance of skin texture and brightness, this causes the skin to regenerate at a faster pace and clear any clogged pore. Formulated with 5% Witch Hazel to help reduce excess oil and soothe whilst working deeply.
Delivering a potent dose of actives to help brighten dull skin and support natural skin elasticity, the Vitamin C in this serum is a powerful multifunctional antioxidant which helps to protect skin from damage caused by environmental pollution (called free radicals). From a purging perspective, the naturally derived EGF (Epidermal Growth Factor) helps to stimulate skin cells to regenerate, producing rejuvenated, youthful skin but also stimulating the skin to purge.​
Whilst a more gentle exfoliating acid, ideal for sensitive skin, the PHA (Polyhydroxy acid) is made of large molecules which remove dead cells from the surface layer of the skin, while naturally locking in moisture. This is a great formula to encourage gentle skin regeneration and cleansing.
AND TO HELP SUPPORT THE SKIN PURGE..
Whilst experiencing a purging phase, we strongly advise to continue the momentum of your routine. The best practice is to ensure you continue the basic steps of your routine and keep consistent. You want to make sure you are using the right products for your skin type to help soothe and nourish the skin.
Cleanse

  

Hydrate

  

Treat

Moisturize

SPF during the day
f you're unsure if your skin is purging, or want some advice on your routine during this phase, contact the askINKEY team.