What to do if you have over-exfoliated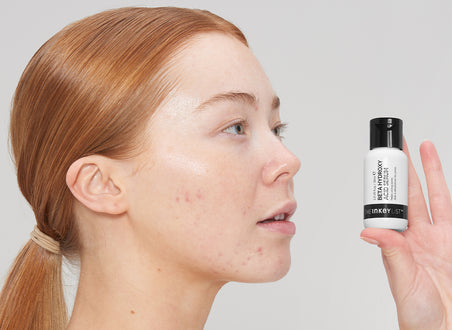 How do you know if you have over-exfoliated?
If you've been exfoliating more than usual or using several actives in one go (think acids, Retinols etc), you may experience certain symptoms that will point to over-exfoliation. 
The most obvious symptoms include redness and irritation at the skin's surface, which may also manifest through burning and inflammation. Over-exfoliation may also present through spots and blemishes due to excess oil production (produced to over-compensate for the increased exfoliation), as well as congested pores that look different to normal. 
Lastly, you may begin to notice that skincare products you usually had no problem using are now causing sensitivity, whether they contain certain active ingredients or not. 
How to prevent over-exfoliation in your skincare routine 
Whilst everyone is different, exfoliating no more than 2-3 times a week is generally a good starting point. If you're new to exfoliating acids such as Glycolic Acid Toner and Beta Hydroxy Acid Serum, it's best to introduce these ingredients into your routine gradually, around once a week before slowly building. 
However, preventing over-exfoliation is not just about resisting the urge to reach for the chemical or physical exfoliant too often; you will also want to be aware of mixing certain products that may cause you to double up on your actives. 
For example, using AHAs (alpha hydroxy acids) and BHAs (beta hydroxy acids) in the same routine as a Retinol will likely overload skin and lead to irritation. It's best to alternate between these during your night time routine, and also always make sure to wear SPF the following morning, as both can increase the skin's sensitivity to the sun. 
Vitamin C is also best kept apart from exfoliating acids and Retinol, and used in the morning rather than the evening for its pollution-protecting, brightening benefits. 
It's also easy to double up on exfoliants when using multiple steps in the same routine. Be aware that if you use cleansers or toners that feature ingredients like salicylic or glycolic, skin may also get overloaded if you then follow up with a serum containing these acids also. For this reason, always check your ingredients lists carefully. 
Learn more about which ingredients not to mix here. 
How to take care of skin that's been over-exfoliated
So, you've over-exfoliated and are likely experiencing some irritating symptoms – what now?  the first step is to put down the exfoliating acids and retinols, and retreat from anything that could irritate skin further. 
The goal here is to help skin recover by building back up the microbiome (responsible for keeping hydration and nourishment in, and inflammation, dryness and redness out), meaning you should be reverting back to an ultra-gentle, simple routine until things are looking and feeling better. 
That also means reaching for moisturizing ingredients that will help skin along. These include hydrating heroes like Hyaluronic Acid (in cleanser and serum form), as well as Polyglutamic Acid Serum, which works brilliantly when layered atop your hyaluronic. 
Other ingredients which can help are Madecassoside Mask, which works wonders for irritated, stressed out skin in trouble, along with Niacinamide Serum and Glucoside Serum for redness. 
As mentioned, also remember to lather on your SPF, as over-exfoliated skin will be particularly sensitive to the sun.
If you'd like more advice on over-exfoliation, get in touch at askINKEY.