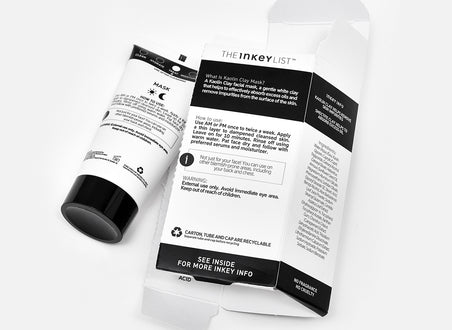 Reading a beauty product label can feel like a major challenge, particularly if you're not familiar with certain ingredient names. An initial glance at an INCI List is enough to send many of us into confusion and understandably so.  
However, at The INKEY List, we are committed to educating our community as they shop, providing the knowledge they need to make informed choices, and the transparency to understand what's really in their products. In fact, our core values (and name) are centred around clearer, easier-to-understand ingredient-led products that aren't a mystery to the average shopper. 
That said, there are a few things you may want to know when shopping for your beauty products — in particular, your skincare. We've laid out the most important, from de-coding intimidating ingredient names to understanding those scary-looking symbols on the packaging. 
So, what is an INCI list?
Let's start at the beginning: what actually is an INCI list? It's beauty industry jargon for the ingredient list of a product, meaning everything that has gone into the bottle or tube you're holding in your hands. 
However, the INCI list is not just a shorthand way of saying 'ingredient list,' it also stands for 'International Nomenclature of Cosmetic Ingredients'. The INCI was created to ensure fairness and consistency across all parts of the world and every brand and product within them. In short, everybody adheres to a standardised way of showing what is in their products via a comprehensive list. 
How to read an INCI list
While the standardisation of ingredients lists is a positive thing, it can seem rather intimidating to those of us who aren't scientists or experts within the field. For that reason, here are the most important things you need to know. 
Ascending orders
When you look at an INCI list, there may initially seem like there's no reason as to why certain ingredients have been placed where they have been. But actually, the order is very specifically designed. Ingredients included in a product with the highest percentages are always listed first, with those at a smaller concentration later on, in ascending order. You will likely see something like aqua (water) placed first or very high on the list, as it acts as a base for other active ingredients within the product. Just because something is further down the list, it does not mean it is less relevant or does not deliver an effective dose within a product; some ingredients just work better in a smaller percentage. 
For a visual example of how this works, take a look at the full ingredient list for our Niacinamide Serum, which features the active ingredient Niacinamide very high up the list, just after water:
Water (Aqua/ Eau), Niacinamide, Glycerin, Propanediol, Butylene Glycol, Squalane, Leuconostoc/Radish Root Ferment Filtrate, Hyaluronic Acid, Phenoxyethanol, Hydroxyethyl Acrylate/Sodium Acryloyldimethyl Taurate Copolymer, Hydroxyethylcellulose, Phospholipids, Xanthan Gum, Glycine Soja (Soybean) Extract, Allantoin, Disodium Edta, Polysorbate 60, Panthenol, Glycolipids, Glycine Soja (Soybean) Sterol, Disodium Phosphate, Citric Acid, Sodium Phosphate.
Expect Latin 
Perhaps one of the main reasons why INCI lists can appear intimidating and unreadable is that some ingredients may be included with their scientific names, which are oftentimes Latin. While some names may need a little research, many brands will also include the more commonly-known name for the ingredient in brackets. 
Understanding symbols
While the INCI list features a product's chosen ingredients, there is plenty more to keep an eye out for on a label. For example, you'll want to note the shelf life of a product, which is indicated by an open jar symbol with a number of months on it (6M, 12M etc). 
Then there's the symbols referring to how packaging of an empty product can be treated. For example, certain symbols tell you the entirety of the packaging can be recycled, while others will reveal certain parts can be, or that they will only be accepted in certain boroughs. This handy guide will help you determine which is which. 
Lastly, you'll want to look out for symbols that refer to a product's sustainability, particularly if that is something that's very important to you. A Leaping Bunny symbol means it's considered cruelty-free, while something given The Vegan Society's stamp of approval will have the word 'vegan' written in green.  
Decoding intimidating ingredients 
So onto the ingredients themselves. The easiest way is to find yourself a glossary like the INKEY Ingredient Index, which lays out what every ingredient used in our products does. It's super easy to use, and can be sorted alphabetically or by category and origin. Some of the most effective and beloved ingredients often come with the longest or most intimidating names, but once decoded, are far more approachable. 
Ingredients to look out for
That said, there are some ingredients that should stand out on an INCI list, depending on the type of skin you have and what your skincare concerns are. For example, hyaluronic acid, glycerin, ceramides, and dimethicone are excellent for dry skin, while salicylic and glycolic acids, adapalene, and benzoyl peroxide are effective on oily skin or acne-prone skin. 
It's best to read up on what your skin type is and the ingredients that are best suited to your specific type before tackling an INCI list. 
What to avoid 
Not only should you avoid certain ingredients (particularly if you're sensitive or want to stick to vegan ingredients only, for example), but you'll want to avoid ingredient interactions between those in different products you're using in the same routine. For example, things like vitamin C, Retinol, and active exfoliants are best kept to one product at one session each, rather than applying throughout your routine in one go. For this reason, checking the INCI list of each item can be really handy. 
Learn more about which skincare ingredients not to layer together with our guide. 
In terms of what you should actively avoid, many agree that the following are best to stay away from, particularly for sensitive or reactive complexions that need a little extra care.
You can learn more about the types of ingredients sensitive skin reacts best to instead here.
Artificial fragrances and dyes: While products that look and smell nice can feel super luxe, the use of fragrances and dyes in said product are usually only added for user experience. Sensitive, acne-prone, or redness-prone skin can be a little  vulnerable to smells or colours however, meaning it's best to avoid them to keep your complexion safe and healthy. This handy YouTube video by Hyram explains more on how to spot fragrances or dyes on your INCI list. In short, there is nothing wrong with enjoying fragrance in your products, but be a little careful if you suffer from sensitivity. 
Sulphates: Sulphates like Sodium Lauryl Sulfate (SLS) are by no means dangerous, but many beauty brands are beginning to realise that they're just not as necessary as they once thought! Sulphates act as cleansing agents, and are often responsible for the foaming, 'sudsy' effect you often get in your shampoo, body wash, or cleanser. However, when overly used, they can cause skin dryness rather than helping it overall.  
Alcohol:  While some forms of alcohol have an important usage and are not bothersome to skin, others such as alcohol denat can have a detrimental effect at times,  drying it out and causing more harm than good in the long term. Alcohol can be listed under a number of names on a list, including Isopropyl Alcohol, Methyl Alcohol or Ethyl Alcohol. 
Parabens: While advice on parabens (preservatives that keep a product stable) can seem murky (there has been talk of ingredients such as utyl, propyl and ethyl parabens being considered dangerous in the past), many shoppers now prefer to forgo them altogether. You may also only want to buy products that feature a very small amount of parabens, meaning they are far down the INCI list. Look out for scientific names like ethylparaben, isobutylparaben, methylparaben or propylparaben, which indicate parabens in your product.
Want to learn more about how to better understand INKEY List products? You can chat to our #askINKEY team.
Written by one of our askINKEY skincare advisors
Our askINKEY team are available 24/7 on our live chat. A friendly bunch, all experts with deep product knowledge, ready to make skincare as simple as possible. Whether you are an ingredient expert or starting your journey, no question is too big or too small, no judgement or jargon, we're here to help and be part of your journey.
Share the article with others